HP to Deliver Open WebOS 1.0 in September
Posted by: Ryan Kairer on 1/25/2012 12:12:09 PM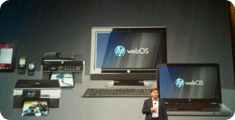 HP today made a number of announcements regarding its plans to open source the WebOS operating system. HP has released a detailed schedule for releasing components of the OS with the full source available by September.
In addition, the company has released version 2.0 of the Enyo developer tool. Enyo 2.0 enables developers to write a single application that works across mobile devices and desktop web browsers, from the webOS, iOS and Android platforms to the Internet Explorer and Firefox browsers – and more. The source code for Enyo is available today, giving the open source community immediate access to the application framework for webOS.
---
Reader Comments
The following comments are owned by whoever posted them. PalmInfocenter is not responsible for them in any way.

Start New Comment Thread
---

very good timing!
zuhmir @ 1/26/2012 1:46:56 PM
The Pre3 will hold me until September. I was afraid there wouldn't be a replacement.


RE: very good timing!
linds @ 1/30/2012 5:09:33 AM
Are you being facetious......I don't think you'll see another phone device....tablet maybe. Of course this is just my opinion based on the way I see things.

Reply
---

WebOS beta released
wmckelvey @ 9/3/2012 4:35:35 PM
Info here:
http://www.macworld.com/article/1168399/hp_releases_two_beta_versions_of_opensource_webos.html

Reply
---
PhoneFavs.com
Your Phone's Favorite New Site
---