HOWTO: Palm Bluetooth Net Access with Windows
Wednesday, November 6, 2002 3:51:41 PM
For many users one of the most exciting and useful new features of the Palm Tungsten T is the integrated Bluetooth technology. Bluetooth is widely seen as the eventual replacement to the older line-of-sight InfraRed (IR) technology. Bluetooth lets a wide variety of devices to connect and talk to each other and share features, wirelessly.
In this article PIC Editor in Chief, Ryan Kairer, walks through setting up and sharing an internet connection with your windows PC and the Palm Tungsten T via Bluetooth.
One of the first things I tried to do when my Tungsten T arrived was get it up and running with my Bluetooth network connected to my PC. Unfortunately, trying to share a DSL connection from my PC to the Palm did not work out so well. The Tungsten would connect with similar settings that I had used successfully with my T615 and BT memory stick, but any application that actually tried to use the connection would cause a soft reset without any sort of error message. Perplexed, I went to the PalmInfocenter forums, a more than excellent source for quick PDA help.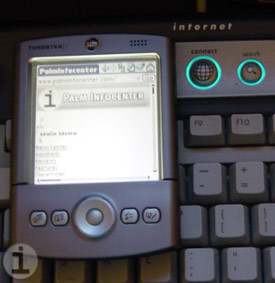 A few days later a few of the forum experts had come up with a solution and workaround to enable internet sharing via Bluetooth. After setting up the workaround I am now able to connect to the net and surf on my Tungsten T via Bluetooth from my PC which is connected to a DSL line from just about anywhere in my office.
To connect to the Internet via the PC or Mac by using Bluetooth on Tungsten T, the computer must be able to serve as a PPP host. For this, you must have a PPP server installed and this software is not bundled in PC or the Mac OS. Moreover, most Bluetooth accessories in the market today also do not bundle this software.
However, there is some hope. Mocha PPP is an example of third party software that can set the PC (not for Mac) up as a PPP host. For the Mac users, Palm Inc is working with Apple to identify some software that allows a similar bridge from Tungsten T to the Internet.
Here are the steps to setup BT net access with your windows PC and Tungsten T*:
This assumes that you have already configured your bluetooth adapter, and paired devices, etc.
Confirm your Bluetooth adapter is configured properly
Confirm your Bluetooth software is providing serial access on a COM port
Confirm you have paired your Tungsten with your PC
Download and install the Mocha PPP software from: Mochasoft.dk
Go to the configuration of Mocha PPP, set device to Windows CE, Serial Port to whatever port is configured in your Bluetooth software, and Baud rate to 115200. Click OK. Note that you may need to deactivate or move Hotsync to another port before setting up Mocha if you are currently BT syncing that way.
On your Palm, make a new connection. Connect to: PC, Via: Bluetooth, Device: your PC's bluetooth name.
Under network, make a new service. User name/Password blank, Connection: [the connection name you created above].
You are now ready to go! Hit connect, and start surfing wirelessly!
* please note that your particular Bluetooth adapter or access point may have different specs and configurations that may not work with this solution. In my case I used the Tecom BT3030 Bluetooth USB dongle.
A Big Thank you to: TravisHill, Mondo, cg, AleksandrK, jmpage2, TinMan, hotpaw4, Palm Inc and everyone else who helped to figure this out! We will post OS X and Linux instructions if they become available. For more information about this see this forum thread.
Article Comments
(138 comments)
The following comments are owned by whoever posted them. PalmInfocenter is not responsible for them in any way.
Please Login or register here to add your comments.

Comments Closed
This article is no longer accepting new comments.

Only the first 50 comments are displayed within the article.
Click here for the full story discussion page...