SnapperMail v1.8 and AcidImage Pro Released
Wednesday, August 27, 2003 8:59:58 AM
Snapperfish has released version 1.8 of its POP3 email client, SnapperMail. AcidImage Pro is an image viewing applicaion, and is now the first application to render TIFF images natively. The combination is the first solution to view faxes sent wirelessly.
SnapperMail
New features in 1.8 include support for segregating mail accounts into separate folders, much faster message rendering, and improved HTML support. It also fixes a number of bugs.
"We're very happy with 1.8, a lot of time was spent optimizing and testing this release, it's faster and much more robust that 1.7," commented Stuart Nicholson, Senior Software Engineer for Snapperfish.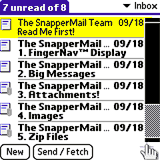 SnapperMail has a host of unique, easy to use features designed for a best in class email experience, including:
FingerNav technology, facilitating user friendly finger operation with smartphones
No size limits on message bodies and attachments.
Attachment support in desktop format with partner applications. Supported filetypes include MS Word, MS Excel, MS PowerPoint, Zip, Jpeg, BMP, GIF, PNG, vCard, vCalender, Text, HTML, CSV, WAV, and Midi.
With periodic mail fetching, you can automatically check mail while your PDA/phone combo is in your pocket and configure vibration notifacation or audible alerts.
Memory Card support including a full file browser for attaching and saving files.
Version 1.8 is a free update. Existing customers can download the update from here. A free 30 day trial is also available.
AcidImage Pro
Also released today was AcidImage Pro, the first Palm OS application to render TIFF images natively. The combination of AcidImage Pro and SnapperMail provides the first solution to support mobile professionals wanting to view faxes sent to them wirelessly via fax to email gateways such as jFax. AcidImage Pro supports JPG, GIF, BMP and TIFF graphics formats.
AcidImage Pro will view multi-page TIFF images from memory cards or from any email application that supports the Palm OS Exchange Manager. With AcidImage Pro, you can also receive images via Bluetooth or InfraRed for viewing. The new document anti-aliasing feature in AcidImage Pro makes black & white documents like faxes and maps easier to read. Zooming and panning is instantaneous for all document types.
AcidImage Pro can be purchased from Red Mercury for $49.95. An upgrade from AcidImage is available for $20.
Article Comments
(24 comments)
The following comments are owned by whoever posted them. PalmInfocenter is not responsible for them in any way.
Please Login or register here to add your comments.

Comments Closed
This article is no longer accepting new comments.