Handspring Releases Prism and Platinum
Monday, October 16, 2000 8:02:53 AM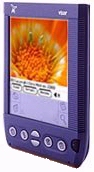 As has been rumored for weeks, two new Visors are now on sale at the Handspring site. The Prism is the first color Visor, capable of displaying 16 bit color, over 65 thousand colors. It runs at 33 MHz, has 8 MB of memory, and an internal rechargeable lithium ion battery. It is available now for $450.
The Platinum has a monochrome screen, runs at 33 MHz, has 8 MB of memory, and uses AAA batteries. It is currently on sale for $300. Both will be available in stores in November.
Both devices run Palm OS 3.5.2H and Handspring is claiming a 50% speed increase over the Visor Deluxe. Because the Deluxe uses the 20 MHz Dragonball chip while the Prism and Platinum use the new DragonBall VZ 33MHz, this this seems quite likely.
Handspring is promising the Prism will run for 6 hours of continuous use on its internal battery and that it can be recharged in "minutes" by the cradle.
At this time, the Prism comes in only a single color, Cobalt blue while the Platinum comes in only Silver. Both are the same height and width, 4.8" x 3.0", but the Prism is slightly deeper, .8" verses the the Platinum's .7". The Platinum weighs in at 5.4 oz. and the Prism is 6.9 oz., the extra weight probably mostly due to its battery. The on/off switch on both devices has been moved to the right side.
The company will demonstrate Japanese versions of both new products in Tokyo this week at World PC Expo. Handspring expects to begin selling the Japanese versions of Visor Prism and Visor Platinum before the end of the year, along with International English and German versions in Europe. International English versions are also expected for Asia in early 2001 and other languages and markets will follow.
IDEO has released a free software update for its eyemodule so people can take pictures with both the Prism and Platinum editions of Visor.
Not surprisningly, the Handspring site is running very slowly right now. Please be prepared for some delays if you go there until the intial hoopla calms down.
Article Comments
(34 comments)
The following comments are owned by whoever posted them. PalmInfocenter is not responsible for them in any way.
Please Login or register here to add your comments.

Comments Closed
This article is no longer accepting new comments.