Playing Audio on the Sony Clié
Wednesday, May 2, 2001 10:32:19 AM
As Sony is a media giant, it is no surprise that their latest handheld, the PEG-N710C, has support for playing digital audio. What is a surprise is that it has built-in support for the controversial MP3 format, which is the preferred format for music piracy. Sony would rather people use its ATRAC3 format which has copyright protection. The N710C comes with applications that can play both.
Sony handled this in an unusual way. The N710C comes with a version of its Palm Audio Player and desktop app combo that plays MP3s and a completely different set that plays ATRAC3 files. Neither can play the other format.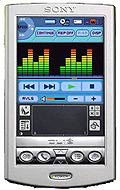 To store and play MP3s, all that is necessary besides the player is a regular Memory Stick like the one that comes with the N710C.
To store in ATRAC3, a MagicGate Memory Stick is required. Sony's MagicGate technology is intended to protect digital content. These are white, as opposed to regular Memory Sticks that are blue. Windows 2000 users beware, the ATRAC3 version of the desktop software requires FAT32 and won't work with NTFS.
How much music can be stored on a Memory Stick depends on both the size of the MemStick and the quality the file is saved in. At 132 kbps, a 128 MB MemStick can store 120 minutes of music. At 66 kbps, that jumps up to 240 minutes.
However, the 128 MB MemStick is only available in the MagicGate version and it costs a hefty $300. The largest regular one Sony offers is 64 MB for $140.
Of course, it doesn't matter how much music is stored if the battery is dead. Sony says that during audio playback with the screen off the battery should last about 11 hours but only 3 hours with the display on. They have added a convenient button to turn off the screen while playing music.
Related Articles:
On the Web:
Article Comments
(39 comments)
The following comments are owned by whoever posted them. PalmInfocenter is not responsible for them in any way.
Please Login or register here to add your comments.

Comments Closed
This article is no longer accepting new comments.