Sony Clie UX-50 Begins Shipping
Tuesday, September 9, 2003 1:37:26 PM
Reports have come in that Sony's latest, the Clie UX-50, has started to ship in limited quantities. The UX series has a mini laptop like design with a swivel screen, digital camera and built in keyboard. The PEG-UX50 has both integrated in Wi-Fi and Bluetooth wireless, while the UX40 just includes Bluetooth.
A number of PIC readers and posts in the Sony forum have reported receiving notices that the devices have begun to ship and other have already recieved their pre-ordered models. PDAGeek also reports that some CompUSA stores in the US also have a few in stock.
The Clie PEG-UX50 and UX40 run Palm OS 5.2 and use a new processor system developed by Sony called the Handheld engine.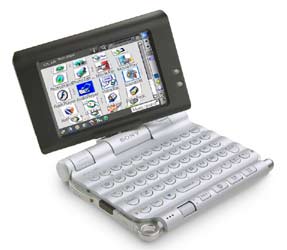 For the first time, Sony has designed, engineered and manufactured a new processor for the handheld that has been optimized with three key benefits in mind: multimedia processing, battery life and miniaturization. Dubbed the Handheld Engine™, the new processor (model CXD2230GA) is expected to find its way into future iterations of CLIÉ handhelds. By integrating various I/O functions including two-dimensional graphics engine, digital camera and Memory Stick PRO media interfaces onto a single chip, Sony was able to reduce the overall size of the CLIÉ UX50 handheld
The Handheld engine combines a Sony manufactured ARM926 based processor, a Digital Signal Processor (DSP), and a CXD2230GA graphics accelerator. The processor speed varies between 8 MHz and 123 MHz, depending on the demand. The system and dedicated graphics chip will support a version of OpenGL and can play back MPEG video at 30 frames per second.
The screen is a swivel design that can be rotated and used in both the flip up and tablet mode. It is a TFT color backlit display with 480x320 pixel, 65k color screen. The display is used in a horizontal landscape mode. The screen lifts to expose the keyboard, or swivels to hide the keyboard and use as a touch screen. With this design more room is available for the built in keyboard, which allows for more space between each key.
The models have a total of 104 MB or RAM. Of that 16 MB is available for traditional storage of files and programs, another 16MB is used for the dynamic heap. Another 16 MB or non-volatile memory is dedicated for system back up to save the contents of RAM when the battery is low. Finally, there is an additional 29 MB available for media storage, that acts as a traditional memory stick.
The devices has integrated Wi-Fi (802.11b) and Bluetooth for wireless communication. The UX40 model does not include WiFi. There is also a IR port, speaker, microphone, Stereo headphone jack and a memory stick pro slot.
The digital camera is a 300k pixel camera and has 3x digital zoom. The camera supports up to VGA (640x480) resolution, You can also record and play back video (MPEG4, 30 fps, 160x112) and can upload images directly to Sony's ImageStation website.
The device measures 4 x 3.4 x .7 inches (103 x 86.5 x 17.9mm) and weighs 6.2 ounces (175 grams). The handheld body is made of magnesium. Sony rates the battery life at 14 days with 30 minutes of typical use per day.
The devices can be ordered from SonyStyle.com. The PEG-UX50 retails for $699.99 and the UX40 is $599.99 USD. Some online retailers are offering the UX-50 starting at $629 USD.
Article Comments
(79 comments)
The following comments are owned by whoever posted them. PalmInfocenter is not responsible for them in any way.
Please Login or register here to add your comments.

Comments Closed
This article is no longer accepting new comments.

Only the first 50 comments are displayed within the article.
Click here for the full story discussion page...