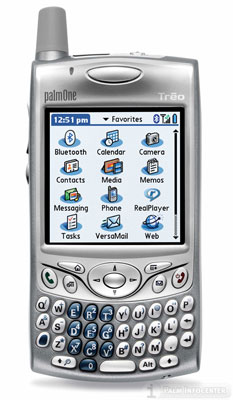 Palm Treo 650 Review
By: Ryan Kairer
March 29th, 2005
© PalmInfocenter.com
The Treo 650 is the third incarnation of the Treo smartphone series. It builds upon the successes of it's past siblings and adds many requested features and enhancements.
Design
The Treo 650 is primarily made of plastic but has a overall solid feel. The front of the device houses the status LED, earpiece speaker, screen and the keyboard. Unlike previous palmOne handhelds, the status LED on the Treo 650 is quite functional and can indicate a number of different states as shown here. The edges and corners of the device are all smooth and slightly rounded. Below the display lies the central navigation ares with the application buttons and the 5-way navigator. The full qwerty thumboard lies below the screen completing the data centric smartphone design.
The right side of the device hides the infrequently used stylus silo, while the left has large volume rocker and a configurable application button, which was likely placed with a push to talk feature in mind. The bottom contains the new palmOne multi-connector and a smaller 2.5mm headset jack. The top of the device holds a rounded exposed antenna stub the SD card slot, SIM card bay (on GSM versions), the IR window and a convenient silent mode switch.
The rear of the Treo contains the VGA camera, with a small circle mirror for self portaits. Underneath the camera is a speaker-grill for the speakerphone and music playback. Next to that is the button to remove the battery door, which exposes the removable battery and reset hole, which can be triggered by the stylus tip.
The Treo 650 has physical dimensions of 4.4 x 2.3 x 0.9 inches (11.3 x 5.9 x 2.3 cm) and weighs 6.3 ounces (178g).
Hardware
The 650 is powered by a 312 MHz Intel PXA270 processor and runs Palm OS Garnet v5.4.5. It has 32 Megabytes of non-volatile memory, of which 23.7MB is user accessible. The non-volatile memory allows the memory contents to be preserved even when the battery is removed or out of power. The Treo also incorporates a SD memory expansion slot which can accommodate MMC, SD and SDIO memory cards. However, it does not yet support the palmOne WiFi SD card at launch. palmOne claims to be evaluating the situation, so there is only a slight potential the card will eventually be supported.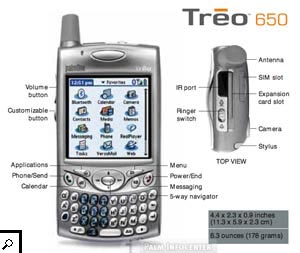 Display
The Treo 650 has a very sharp 16bit color, 320x320 pixel TFT screen, which measures just under 2 x 2 inches. palmOne outfitted the 650 with a high resolution screen in about the same spacial area as the Treo 600 making for a very crisp text and graphics experience. The fonts are extra smooth and photos and graphics look great. The screen also offers improved visibility in direct sunlight, though slightly washes out. There is a backlight slider which can also turn the backlight completely off.
Thumboard
The Treo 650 has a improved thumboard over the Treo 600. The keys are now slightly larger and flatter and are arranged in a curved smile pattern. This new design is much more ergonomic and makes thumb typing on the 650 a more effective and smoother experience than its predecessors. It also has an improved backlighting system for the keys. The keys glow a sharp white color that is especially bright at night and consistently well lit. One minor complaint is that there is no option to adjust or turn off the keyboard backlights and they always remain on when the device is in use.
Camera
The Treo 650 has a built in VGA camera with 640x480 (0.3 megapixel) resolution and automatic light balancing. It has 2x digital zoom and can also capture movie clips in the .3gp format. The camera's quality is vastly improved over the Treo 600's. Photo's are more realistic and colors and light balancing are much more accurate. Pictures can be automatically stored in configurable photo albums to either the handheld memory or preferably an SD card. Below are three unedited shots taken with the 650's camera under various lighting conditions from indoors to sunny and cloudy:
Phone & Wireless Specs
The GSM Treo has a quad band wireless radio that uses the 850/900/1800/1900 MHz frequencies. The CDMA model uses a digital dual-band CDMA/1xRTT radio operating on the 800/1900 MHz bands. The GSM model also support high speed EDGE networks with data speeds averaging up to 135 kilobits per second (kbps). It also features E911 compliance with a built in GPS chip that is solely used for the enhanced E911 emergency location service.
Bluetooth
In addition to its wireless phone network capabilities the Treo 650 has built in Bluetooth wireless. Bluetooth enables a number of new accessories including wireless headsets, bluetooth GPS, wireless hotsyncing etc. When enabled, with Bluetooth Dial up networking can use your Treo as a mobile modem taking advantage of its data connection to use on your laptop or PC. However, certain carriers have disabled Bluetooth DUN by default, but fortunately there are patches available to re-enable this feature.
Audio
The Treo 650 has a dual speaker design, with the front earpiece speaker used for phone calls only while the rear handles the sysytem sounds, games and music. If you want to listen to digital audio via a headset you'll need the 3.5mm stereo adapter. The rear speaker is well placed just under the camera and can be very loud. There is an excellent selection of ringtones that can also be used as alarms. (finally some new and modern alarm sounds!)
Battery
The Treo 650 comes with a 1900 mAH Li-ion rechargeable battery that can be removed via a cover on the back. Additional replacement batteries are sold by palmOne for $59.99 USD each. Battery life for GSM models is rated at 6 hours talk and 300 hours standby, while the CDMA version gets 5 hours of talk and 300 standby. Tapping on the small battery icon will tell you how much battery life is left percentage wise. With my own personal usage pattern, which included heavy internet usage and a few phone calls a day, I am able to charge up every 3-4 days or so, which is very impressive for a high end phone.
Software
The Treo 650 runs Palm OS Garnet v5.4.5. This is the latest version of Palm OS 5 and is mainly a maintenance release from v5.2. It also includes palmOne's excellent Updated PIM applicationa, which have been previously covered in our Zire 72 review.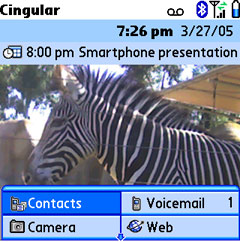 Phone Application
The phone application is the centerpiece of the software that controls calls, contacts, dialing and jumping to a list of your shortcuts or favorite applications. It allows you to simply start punching in numbers to dial or you can access your contacts with ease. The favorites function allows you to setup quick links to applications, contacts, lists of contacts and web links. It has a neat scrolling animation when you expand the list, which can store 70 shortcuts.
The phone application also shows your signal and battery strength, bluetooth status and has an option to list your next calendar appointment. You can also easily set a background photo or have a standard dialing pad. Another feature I found useful was that it asks you to store new contacts and numbers when you make or receive a call from a number not already stored on your device.
With the addition of the new more phone like, green and red send/end buttons initializing and ending calls is much more straightforward. You can also tap the green phone button from within the phone app to bring up a shortcut list of your recently dialed calls and can find shortcuts to your call history or the dial pad.
One Handed Navigation
One thing the Treo 650 really excels in is its one handed operation. The 5-way navigator and on screen cursor make it possible to perform many tasks without needing to use the stylus. In fact it's pretty rare that I even find myself pulling out the stylus when using the Treo. There is a light blue glow that highlights dialogs and form elements, that acts much like an on screen cursor. It really makes using the handheld with one hand easy and much more intuitive. It works well within many of the included apps and is also compatible with many existing old and newer third party programs.
The Treo 650 includes palmOne's Blazer browser v4.0 for wireless web surfing and Versamail v3.0 for email and messaging. Blazer is an excellent and very speedy browser. It renders web pages significantly faster because it displays the text first, before loading the formatting and images. It has both an optimized and a widescreen mode and support javascript and VPN connections (with VPN software). The browser also has excellent support for bookmarks and offers proxy and proxyless browsing modes
With VersaMail's support for POP and IMAP email servers, users can download mail wirelessly or by synchronizing with their desktops. For Enterprise users whose organizations run Microsoft Exchange Server 2003, the Treo 650 has built in Exchange Server ActiveSync that will directly import and enable corporate email and calendar synchronization. The Treo 650 lets users send and receive sms/mms text messages, photos or video clips right away from one application with a single inbox. Text messages are threaded in a IM chat-style view.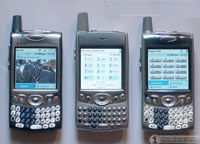 palmOne bundles the latest v7 release of Dataviz's Documents to Go on the included CD. Docs to Go supports creating and editing native Microsoft Word, Excel and Powerpoint files. You can use files received from email, Bluetooth, stored on SD or beamed to the device.
One the desktop side of things, palmOne includes their Quick Install program for Windows. Quick Install simplifies installing programs and converting documents and photos for handheld use. Users simply drag zip files, prc application files, photos, videos and even MS office files into the app and it will preform the necessary conversion and install the the files on the next hotsync. The software CD includes the Palm Desktop for windows and Mac as well as the palmOne Outlook Conduit.
Summary
The Treo 650 is a true rich smartphone experience combining the best phone and PDA aspects. I can say with ease that it is the best phone as well as PDA that I have used. The rich built in software suite and excellent hardware combined with the large catalogue of Palm OS software makes for an excellent mobile communicator platform.
The Treo 650 can be purchased from the Palm online store. Prices vary based on carriers and commitment plans and typically range from $449 USD to $699 for the unlocked GSM model.

PROS

CONS

Excellent out of the box experience
Great Screen
Rich Software, One handed operation
Good Battery life; removable

Small Internal Memory
No WiFi Drivers
Slow Carrier rollout for some
RATING: 9 / 10

Design:
Elegant Industrial Design
Features:
Thumboard, Wireless
Screen:
Vibrant, Crisp Display
Battery:
Lasting Battery Life, NVFS RAM
Value:
Best Smartphone on the Market
Article Comments
(28 comments)
The following comments are owned by whoever posted them. PalmInfocenter is not responsible for them in any way.
Please Login or register here to add your comments.