Bejeweled 2 Gets A Big Update
Wednesday, March 19, 2008 10:01:07 AM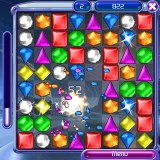 Astraware has released a major update for Bejeweled 2 for Palm OS and Windows Mobile devices. This is the first major update in a number of years for the extremely popular PopCap title.
In version 1.30, Bejeweled 2 adds much-requested support for 240x240 square screen Windows Mobile devices such as Palm Treo smartphones and includes support for 320x320 Windows Mobile Professional and Classic devices such as Samsung's SGH-i780 smartphone. The game has also been brought fully up-to-date on Astraware's current games framework and controls have been optimized for play with either 5-way or stylus.
Bejeweled 2 from Astraware takes the classic game of gem-swapping to euphoric new heights. Players must match the colored jewels in lines of three horizontally or vertically to clear them from the board. Lines of four jewels are awarded with a Power Gem whilst lines of five award the much sought-after Hyper Cube. Both special jewels trigger their own unique jewel-clearing devices.
Bejeweled 2 features sharp graphics, stunning background images, in game transitions and cutting-edge special effects. The game has four standard play modes; classic, action, endless and the all-new puzzle mode and five special bonus modes are unlocked as players progress through the various standard modes, adding extra challenges and even more gameplay.
This update also sees the very first release on Windows Mobile Standard devices. Bejeweled 2, version 1.30, supports 240x320 and 320x240 resolution non-touchscreen devices including the HTC S710, HTC StrTrk, Samsung Blackjack & Blackjack II, and Motorola Q and Q9.
Bejeweled 2 v1.30 is available now for Palm OS and Windows Mobile. It comes with a free trial period and costs $19.95 for the full version. This latest update is free for existing customers.
Leave a comment...

Click on the
Start New Comment button
below to begin a discussion.
You must be
registered
and
logged in
to add comments.