PalmInfocenter Launches Palm Accessories Store
Wednesday, March 22, 2006 2:12:09 PM
We are pleased to announce our new Palm and Treo accessories store today. PalmInfocenter now offers many of the latest and most popular accessories and add-ons for Palm Treo smartphones and PDAs. Be sure to check out the store and read on for more details.
The new Palm accessories store section is an expansion of our growing Palm software catalogue. Customers can now browse and purchase Palm compatible accessories and software at one convenient location. You can even purchase software and accessories from the same shopping cart and from mobile devices.
Palm Accessories
The new store offers much of the same ease of use and navigation, and features a quick checkout process with multiple payment options. It carries some of the best Palm and Treo add-ons and accessories at competitive prices. Product pages show clear and concise descriptions and many product FAQs are also posted to help with the setup process for new gadgets. The store also continues to offer the best in class Palm OS and Windows Mobile software titles.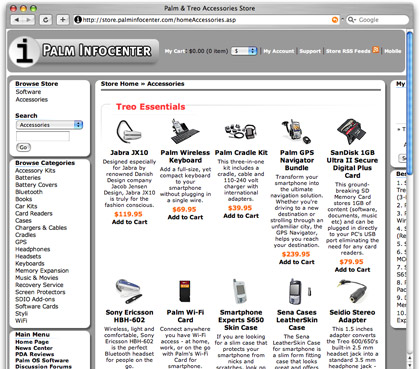 Accessories Store Highlights:
Currently, the store ships accessory orders to the US and Canada. Ground shipping on most items starts at only $4.95 and there are express options available as well.
Software is available worldwide and can be purchased in many local currencies including: British Pounds, Euros, Yen and also via PayPal. You can stay up to date on the latest Palm software with our software RSS feeds.
To access our software site on your Palm device you can download our application shortcut or enter store.palminfocenter.com in your Palm mobile web browser.
Article Comments
(5 comments)
The following comments are owned by whoever posted them. PalmInfocenter is not responsible for them in any way.
Please Login or register here to add your comments.