Palm Treo Cradle Kit Review
by: Kris Keilhack
September 5, 2006
In an earlier review I covered Palm's own Cradle Kit for Athena/Multi-Connector PDAs such as the T5, TX, E2, and LifeDrive. Shortly after reviewing that particular cradle, I made the leap from a Palm TX to a Treo 700p. Despite having the same accessory connector, the Treo 650 and 700 series cannot share a cradle design with Palm's PDAs due to design differences in body shape and thickness. So it was only natural that one of my first accessory purchases was Palm's Treo Cradle Kit.
In the Box
- The cradle itself. In lieu of an audio-out connector and internal white LED lighting, this connector's claim to fame is a pocket where an additional Treo battery can be charged. A single red LED, a center-mounted Hotsync button and the rear cable connector are the only distinguishing marks on this otherwise bland cradle.
- A USB sync/charge Athena/multi-connector cable identical to the one included with Palm devices.
- A worldwide multi-voltage (110-240 volt), multi- frequency (50-60 Hz) international power supply. The adapter is slightly larger and thicker than the one Palm includes with their handhelds and smartphones. This charger can be detached from the cradle and plugged directly into the bottom of Palm's devices for travel purposes as well as used in conjunction with the global plug adapters.
- Assorted global socket adapters (U.K., Europe, Australia, and U.S.)
While the package I received came in the older "PalmOne" brown and orange packaging, I have recently seen an updated package of the same contents brandishing the new bright orange "Palm" logo.
Initial Impressions and Usability
Thankfully, this cradle is actually a bit heavier and more solidly constructed than the "fancier" model I previously reviewed. Treo insertion and removal was easier on this cradle than was on the other version with my TX. The added base weight is a huge bonus here, as is the larger footprint. I still have to use two hands to remove my Treo but it's not as aggravating as the process was previously with my TX.
Styling-wise this flat black Treo cradle pales in comparison to the sleek contours and LED-illuminated interior of the Palm's silvery handheld cradle. However, I'll take a heavier cradle that doesn't slide around my desk any day!
I immediately began to appreciate the spare battery charging pocket. The cradle's LED illuminates red or green to indicate charging status of the spare battery. You'll have to rely on the Treo's own LED to shows internal battery charging status. In very informal testing, I noticed no difference, regardless of placement, in the charging times of both a standard Treo 1800mAh battery and a Seidio 2400mAh extended battery. The slightly thicker Seidio battery posed no problems fitting into the cradle's battery compartment.
In a useful twist, if the Palm Desktop software/USB driver is installed on the host PC, the Treo WILL trickle charge over USB even while in the cradle and with no AC adapter connected. So with the 700p's original box contents and this accessory kit, I now have four places where I can charge my Treo:
#1 USB cradle charging on my desk next to my PC
#2 From my laptop with the original USB cable
#3 Next to my bed with the original AC adapter
#4 At work with the global AC charger included with the cradle kit.
That charging versatility is the small but useful touch Palm shows sometimes in their products but not often enough!
Compatibility and Availability
The Palm Treo Cradle Kit is compatible with the Treo 650 & 700 w/p smartphones only. Presumably, the upcoming 750v Treo will also work with this cradle but that is not a certainty by any means due to its potentially different form factor.
Palm handhelds and the Treo 600 are not compatible with this particular cradle. Recent non-Treo Palm handhelds will work with this kit's included charger and USB cable so multi-Palm households can share some accessories.
I did not have a chance to test this cradle with a Treo flip case or skin case of any sort. However, I have a thin Gadget Grip strip applied to the backside of my 700P for added grip and it gave no difficulties when inserting or removing my 700p from this cradle.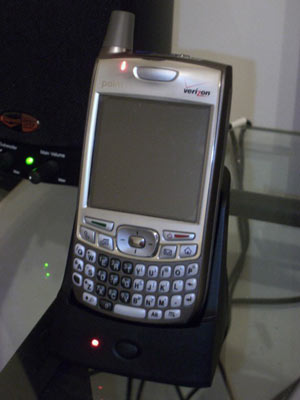 Palm's online store sells this kit for $59.99 + shipping. It is also available for $39.95 from the PalmInfocenter store. The kit is also available at Palm's retail shops and kiosks as well as leading e-tailers and retail stores such as CompUSA, Office Depot, and Staples.
Pros:
Good assortment of accessories for the $, especially if you pay less than MSRP
Very handy spare battery charging pocket
Solidly constructed and heavier than the standard Palm handheld cradle so insertion/removal is vastly easier
International adapter plugs included
Can trickle charge over USB even with the Treo in the cradle
Cons:
Rather high MSRP
Included AC adapter is on the bulky side
Styling is a bit bland. Some aluminum accents or LED lighting could jazz things up!
Conclusion
Palm has produced another fairly strong accessory offering, especially compared to the flashier non-Treo version. The package offers questionable value at its ~$60 MSRP but if found and purchased for less than MSRP it becomes a solid value, considering the quantity and quality of the bundled accessories. I'd not mind giving up the international adapter plugs for a small reduction in the sales price. The extra battery charge pocket is infinitely more useful to the hardcore Treo user than a novelty feature such as a headphone jack or internal speakers.
My overall rating:    

3.5 / 5
Article Comments
(25 comments)
The following comments are owned by whoever posted them. PalmInfocenter is not responsible for them in any way.
Please Login or register here to add your comments.