Palm Treo Headphone Adapter Review
by: Kris Keilhack
August 15, 2006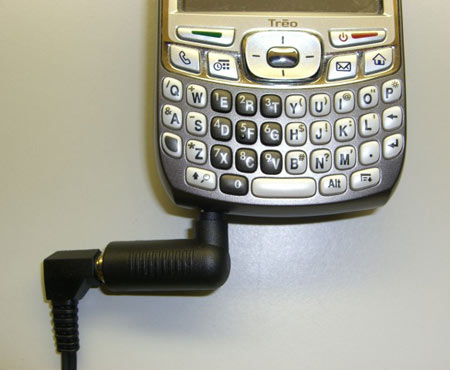 Other than the lack of a larger LCD, my biggest gripe with Palmís Treo line is the baffling lack of a standard 3.5mm stereo headphone jack. With SD cards currently available in 4gb capacities and larger sizes on the horizon, users will naturally to want to realize their Treoís media playback/gaming capabilities in glorious stereo.
Iíve been using a Bluetooth headset for two years now and have absolutely no use whatsoever for the Treoís standard 2.5mm headset jack. While there are a handful of stereo earbuds + microphone combo units out there their driver quality usually leaves much to be desired. With no integrated solution or A2DP Bluetooth functionality in sight, itís nice to see companies like Palm and Seidio at least attempting to address the Treoís lack of stereo headphone support for users like me who prefer to carry their own high-quality headphones or earbuds.
Styling and Availability
I purchased my Palm-branded adapter at a Franklin Covey store while traveling for $9.99. It was a rather spure-of-the-moment purchase because I wanted to listen to some music in my hotel room but hadnít brought anything along other than my Treo. The headphone adapter is also available online for $5.95.
The adapter came in the old brown and orange PalmOne blister packaging. To date I actually have not seen the adapter for sale anywhere other than online and at Franklin Covey or Palm retail stores.
Design and Construction
This is one of the larger, thicker headphone adapters on the market. More recent offerings such as the slick Seidio 2-in-1 adapter feature sleeker designs, gold plated contacts and retracable cords.
Palmís offering is a very basic, barebones unit. This would probably work on any other smartphone or cell phone with a standard 2.5mm headset jack though many units do not output their signal in stereo through this port.
I found the Palm unitís body thick and quite unwieldy. Itís also a bit fragile feeling when sticking out of the bottom of the Treo. This product is definitely something Iíd feel more comfortable using on a plane or a train instead of listening while on the go.
Performance
I performed nformal testing of 192kb MP3 files using Pocket Tunes 3.1.6 with Sony Fontopia MDR-EX71 and Shure E2C earbuds. There was no significant difference in audio playback quality between my 700p + adapter vs. my Palm TXís standard headphone jack.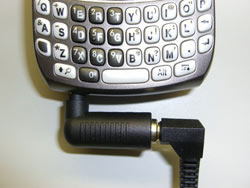 I was also able to rig up a decent rental car MP3 solution by plugging an iRiver FM modulator into the headphone adapter. I was able to charge my Treoís battery and play tunes over the carís FM radio!
Pros:
-Itís cheap
-Available online as well as in Palm retail stores & kiosks

Cons:
-Horribly bulky
-Feels rather fragile when connected to the Treo
-Still not a proper replacement for an internal Treo 3.5mm jack
Itís a decent enough impulse purchase for less than $10. Hardcore music aficionados should look to one of the more streamlined options or carry a separate mp3 player. Hopefully Palm will make all of these aftermarket solutions obsolete with a real headphone jack and Bluetooth A2DP support in future Treos!
My overall rating: †††

2.5 / 5
Article Comments
(42 comments)
The following comments are owned by whoever posted them. PalmInfocenter is not responsible for them in any way.
Please Login or register here to add your comments.