Treo 700wx Released on Sprint
Sunday, September 3, 2006 12:01:01 AM

Palm has launched the Treo 700wx on the Sprint Network. The 700wx is a EV-DO capable smartphone powered by Windows Mobile 5.0 Pocket PC Phone Edition. The 700wx is now available for purchase at Sprint retail locations beginning around $499 depending on available discounts, online availability is expected later this week.
The Palm Treo 700wx combines a mobile phone with high-speed wireless data access to email and business applications. Aside from a darker shade of grey color, the 700wx is identical to the 700w in appearance. It also features much of the same software and Palm Treo specific enhancements on top of Windows Mobile. The 700wx has been given a significant upgrade in free operating memory. It features twice the available program RAM, with a total of 48 MB free after a reset. For a detailed image of the memory differences, view this image.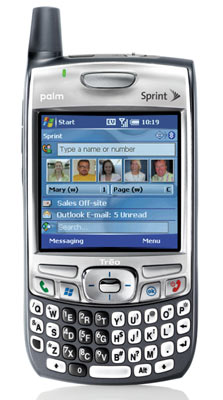 Windows Mobile Messaging and Security Feature Pack (MSFP) comes preloaded, which includes Direct Push Technology, native S/MIME support, certificate-based authentication to all Exchange data, and remote and local device wipe, is available out-of-the-box giving smartphone users fast, automatic wireless updates of their email, calendar items, contacts and tasks. The Treo 700wx smartphone offers mobile professionals streamlined access to Good Mobile Messaging through an intuitive Get Good application icon, allowing easy over-the-air provisioning. The solution delivers real-time access to push-based email, calendar items, contacts, notes and tasks. It also supports Good Mobile Defense for robust security and fleet management, as well as Good Mobile Intranet, giving users access to web-enabled enterprise systems, including sales force automation (SFA), customer relationship management (CRM) and corporate intranets.
The Treo 700wx has a EV-DO capable wireless data connection for broadband like download data speeds averaging up to 400-700 kbps on the Sprint Power Vision Network. The Treo 700wx also incorporates built-in dial-up networking (DUN) capabilities via a USB connection on Windows.
Treo 700wx Features:
312 MHz Intel XScale processor
240x240 pixel TFT screen
128MB of memory and 60MB of dedicated user storage
1.3-megapixel digital camera for images and videos
Integrated Bluetooth 1.2 wireless technology Expansion card slot (SD, SDIO, and MultiMediaCard compatible)
Size/weight: 4.4" x 2.3" x 0.9" (111 mm x 58 mm x 22.5 mm) / 6.4 ounces (180 g)
Removable 1800 mAh battery and non-volatile memory
Voice Command for voice dialing
Ability to send and receive email from multiple corporate and personal email accounts, with built-in support for Microsoft Office Outlook Mobile, Hotmail, Yahoo!, AOL, and other POP3 and IMAP accounts
On-device access to Microsoft Office Word Mobile, Office Excel Mobile and Office PowerPoint Mobile for viewing, editing and creating Word and Excel Mobile documents, as well as viewing PowerPoint Mobile presentations. In addition, with Picsel PDF viewer
Unified messaging application, including email, SMS and MMS
"Palm's goal is to give our customers more choices to satisfy the growing demands of the mobile work force," said Tim Roper, vice president, U.S. region, for Palm, Inc. "The Palm user experience combined with ready access to Microsoft's as well as Good Technology's world-class email solutions gives mobile professionals a true competitive edge and helps to extend Palm's reach into the enterprise market."
The Palm Treo 700wx smartphone from Sprint is available now at Sprint Stores, Sprint business channels and online starting at $499.99 after available discounts and promotions.

Article Comments
(104 comments)
The following comments are owned by whoever posted them. PalmInfocenter is not responsible for them in any way.
Please Login or register here to add your comments.

Only the first 50 comments are displayed within the article.
Click here for the full story discussion page...