Quickies: Palm OS SlingPlayer, GuineaPig, DOS Emu and More
Monday, October 2, 2006 5:00:10 PM
In this quickies update we take a look at some random tidbits and new stuff coming soon to the Palm OS. New packaging reveals a Palm OS SlingPlayer mobile is in the works, we report on a bunch of exciting new emulators including a DOS emu, and a new SEGA Genesis, GameGear. Turbo Grafx, and Atari 2006 game console emulator, Palm's Irish unit has filed for its first patents and much more in this batch of quickies...
SlingPlayer Client for Palm OS?
Gizmodo has posted about a sticker hiding a Palm logo has been spotted on the latest Slingbox packages in retail stores. Sling already supports Windows Mobile Treos. SlingMedia has not released any official information on the Palm OS client of their SlingPlayer Mobile client but this report would seem to indicate we can expect a release soon. -R
GuineaPig - New Classic Console EMU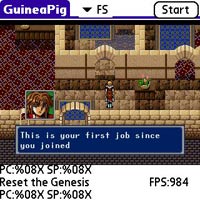 GuineaPig is a new SEGA Genesis/Megadrive, Atari VCS 2600, Mastersystem (SMS), GameGear (GG) and NEC TurboGrafx/PCEngine (TG16) Emulator for Palm OS from CodeJedi. It is in its very early stages but looks very promising. GuineaPig is a freeware open source title. It requires a Palm OS 5 device with a high-res screen and expansion card. -R
Palm Ireland Files First Patents
According to this article on the SiliconRepublic.com Palm's Irish R&D unit has files for its first set of smartphone related patents. In little over a year since its research and development (R&D) operation was announced, smart phone producer Palm's 30-strong research team is already in the process of filing its first patents, the company's senior vice-president John Hartnett told siliconrepublic.com. -R
Exact II Updated to v2.23
Deluxeware's fantastic arcade/puzzle title, Exact II, has recently been updated to version 2.23. It is a minor bug fix update that addresses issues with power buttons on certain Treos. If you haven't already, check out the PIC review of Exact II. -Kris
New drivers for ThinkOutside IR & BT Portable Keyboards
Hot on the heels of their recent acquisition by Mobility Electronics, makers of iGo power adapters, ThinkOutside has released new keyboard drivers for Palm OS devices. Version 4.1 of their universal Palm OS driver adds improved Treo 700p support. The new driver is compatible with the Stowaway IR and Bluetooth keyboard line. -Kris
New Astraware Titles Coming Soon
Astraware have updated their web site's preview page with information on two upcoming titles for Palm OS and Windows Mobile devices.
Cake Mania is a new action title that sounds reminiscent of the Midway arcade classic Tapper. The goal of the game is to bake cakes as fast as possible and send them to anxious customers. The game's control scheme can by handled by touchscreen or by the 5-way navigator.
Luxor is Astraware's second upcoming game and looks to be an Egyptian-themed puzzler similar to Bejeweled. -Kris
DOS x86 Emulator for Palm OS

TamsPalm recently published a preview on a new DOS emulator in development for the Palm OS. The program is a Palm OS port of the well-known DOS emulator DOSBox.
Mobile AOL Mail in Versamail
AOL Mobile has posted a tutorial with step by step instruction on setting up Versalmail with AOL email accounts. This same info can be used with other IMAP compatible mobile email clients.
NSBASIC Programming Contest Winners
NS BASIC Corporation has announced the results of their 7th Programming Contest. Many entries show new ideas, neat tricks and high qualities of overall design using NS BASIC. The full results can be read here.
Movistar Launches the Treo 650 in Peru
Movistar, the leading cellular telephone company in the Peruvian market, and Palm have announced the launch of the Palm Treo 650 smartphone on the Movistar network in Peru. The Treo 650 is available with voice and data plans at Movistar's retail stores throughout the country.
EasyCalc Updated
The popular open-source PalmOS scientific calculator EasyCalc has just released a new version (1.24) which now fully supports hires and the Dynamic Input Area. All flavors of hires (Palm OS 5, Sony Clié, Handera) are supported.
Article Comments
(7 comments)
The following comments are owned by whoever posted them. PalmInfocenter is not responsible for them in any way.
Please Login or register here to add your comments.