CorePlayer for Palm OS Review
By: Kris Keilhack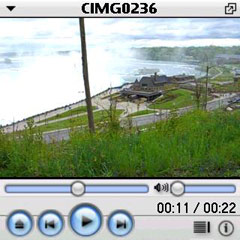 November 28, 2006
TCPMP (The Core Pocket Media Player) has a long and illustrious history on not only Palm OS devices but Windows and Symbian-based handhelds as well. The developers of TCPMP, after honing their skills on the freeware version, have now decided to move forward to a next-generation, commercially released media player.
Now CorePlayer, the freeware app formerly as TCPMP, has finally arrived on the Palm OS scene after numerous delays and false starts. Read on to see if the new commercial version can unseat the quirky but rock-solid free version of TCPMP.
Testing Methodology
I installed CorePlayer onto my Treo 700p, deciding not to install it on my Palm TX at this time after reading about numerous performance issues with 320x480 devices. I also wanted to avoid any potential registration issues since both of my devices used the same Hotsync ID. I used a 2gb Sandisk blue SD card and a 4gb Patriot EP 133x SD card along with Shure E2C earphones for testing purposes on my 700p. I kept the most recent free release version of TCPMP, .71, on my TX for comparison purposes and utilized the same SD cards between both Palm devices. A new version of CorePlayer, 1.0.4 build 712, was quietly released toward the end of my testing period and made a huge difference in overall stability and usability of the program. All of my comments and scoring have been altered accordingly.
CoreCodec makes no mention of the Palm OS system requirements for the player but I would assume that a Tungsten T-class OS5.x device would be the bare minimum for running this app. An SD card is also required for storing any manner of A/V media.
Installation and Feature Set
According to CorePlayer's new website, the following features are new and/or improved with CorePlayer 1.0:
"Universal Skins" allows you to create a unique custom user interface exactly the way you want it!
Best in Class audio and video decoders like CoreAVC our H.264 High Definition video decoder.
CoreTheque media libray allows for easy management of you playlist, bookmarks, database
Codecs: AAC/MP3/DIVX/XVID/MP4/MKV/MIDI/WMA
Streaming Support
Hardware acceleration on supported devices
Even before installing the app, I was starting to become a bit concerned. MIDI playback, hardly a hardware-taxing feature, is promised only with the release Palm version 1.5 (and no ETA given for that update!). Additionally, WMA support will not arrive until version 1.5 but that is no great issue for me since I do not use WMA (DRM or otherwise) for any of my personal file format library unless it's something I just happened to download online.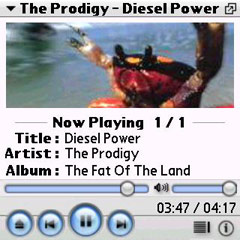 Another quibble is that the "hardware acceleration on supported devices" could really use a handy-list of supported devices. Do they just mean Zodiacs sporting the ATI Imageon chipset? This would be helpful to know! And couldn't "Streaming Support" be elaborated with at least more than a two-word bullet point? The site's paltry amount of information, combined with the lack of a demo or trial version, paints a distressing future for CorePlayer before it is even installed on the user's device. This is one adventure I would not recommend for a novice or casual handheld device user!
I completely uninstalled TCPMP on my 700p before installing CorePlayer 1.02. The recently released 1.0.4 built 712 update overwrites 1.02 and installs with no issues. The new CorePlayer app does not overwrite the old TCPMP app nor is any provision made to import any preferences-they are essentially entirely separate, different products that just happen to have been produced by the same team. A huge improvement over TCPMP, by virtue of the sales revenue of the app cleanly covering any codec licensing fees, is having to not worry about downloading and hunting around for the proper codec of questionable legality to play a certain file.
Stability
I was able to open and successfully play nearly all the media files on my two SD cards. Strangely, several short MPEG 2 video clips (320x240, 30fps) that play flawlessly under TCPMP, but drop frames and exhibit massive pixilation under CorePlayer, with the vague error message "Warning: MPEG Video: MPEG-2 video is not supported!" Even stranger was a clip with a lot of fast action that occasionally breaks up into a mass of pixels under TCPMP plays fine under both versions of CorePlayer. Hopefully all of this mess will be sorted in future version updates.
My main criticism of CorePlayer is simply its unstable nature in many circumstances where TCPMP was bulletproof. Pressing the 700p's "home" hard button while in CorePlayer's "information" screen causes a white screen followed by an endless reset loop. Trying to enter a streaming media URL into the app often causes a crash in 1.02 but fortunately 1.0.4 alleviates this. Some screens have a toggle for a dropdown menu that's devoid of any menu options! Cut & paste is strangely (and annoyingly) absent from the URL entry screen as well. While I can understand CoreCodec's desire to leave their revenue-free business model behind and usher in a new chapter of paid, commercial software, I think TCPMP was put out too pasture too quickly.
A/V Quality & Performance
After going through the registration process, I installed the app onto my Treo's main memory and began testing the same handful of short video clips, cartoons, and music videos that I had been playing repeatedly with TCPMP on both my Treo and my TX. All videos player flawlessly and had essentially identical to TCPMP. File sizes ranged from ~20mb all the way to 700 or 800mb full-length features. Resolutions also varied but most of my test material is encoded at either 320x320, resized specifically for the Treo or at 3xx x 2xx. VGA (640x480) videos really bring the Treo to its knees but, quite impressively, I can stick the SD card from my Casio EX-Z850 (30fps, 6480x480, high quality MPEG-4) into my Treo and play movies I had just recorded in an almost passable manner.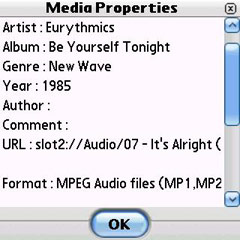 The "information" screen was especially well done. A cropped windowed playback window of the video remains while the remainder of the screen displays filesize, playtime and other relevant information.
Audio files all play well but CorePlayer is decidedly not going to replace Ptunes anytime soon. CorePlayer lacks many of the dedicated music-centric features found in Ptunes such as background playback and the ability to blank the screen to leave audio-only playback. I'd still like to see CoreCodec implement a few more audio-oriented features to truly make this a jack-of-all-trades application for Palm OS users.
I was thrilled to see CorePlayer fairly immune to the 700p's laggy performance and noticed no hiccupping or stuttering during MP3 playback. I also did not find SD card speed to make a difference to overall playback quality. When playing files through my 700's pitifully weak internal speaker, the built-in preamp volume boost was appreciated though overzealous use of this adjustment can lead to distortion.
On the video side of things, I'd love to see CoreCodec add some sort of MobiTV or Kinoma-style channel browser down the road. Ideally, an updated list of mobile-friendly sites with streaming media could be part of the "community" aspect of CorePlayer that has been hinted at in the past. Since 4gb looks to be the absolute cap for SD cards under Palm OS 5.x devices, local storage is finite; but as more users migrate to Treos, online streaming would permit users to view fresh content on their devices.
Ease of Use
I was thrilled to see a revamped, more professional looking UI and onscreen button appearance. TCPMP's interface was, at best, barebones and often brutally unintuitive. Kudos to CorePlayer's designers for crafting logical icons and menus that appear like transplants from iTunes/Quicktime, or Windows Media Player. Now with the newly enlarged onscreen buttons the bug-squashing process can commence! In addition, 5-way navigator support is still sometimes mildly unintuitive but I am still delighted with the improvements made in the recent 1.0.4 update to improve this functionality.
The initial purchase/registration process is straightforward and not too painful. I'd still love to see some sort of demo or trial version in addition to in-app help menus and better documentation. The CorePlayer website badly needs additional information and relevancy in regards to supported devices, available codecs etc. Additional complaints from users have focused on the misinformation spread by CoreCodec employees/administrators, the "vanishing" Palm OS forums and a number of missed dates for version update releases. The "CoreAccount" login system currently shows the Palm OS client as "coming soon" and with no direct links to download the latest version. The purchaser must refer to the original MobiHand purchase confirmation e-mail and redownload the updated app from there - preposterous!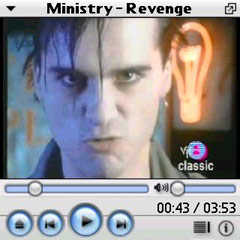 Finally, an integrated version update checker/downloader built into the app would be greatly appreciated by Treo users and bring it on par with Documents To Go and PocketTunes in lending an air of professionalism to this app.
Conclusion
Evolutionary improvements and spruced-up new UIs seem to be the name of the game for new Palm OS apps in 2006. CorePlayer is, in its current iteration of version 1.0.4 build 716, a moderate step backwards from TCPMP in most aspects. That said, the recent (11/25/06) update addresses many of my main concerns with the launch version, primarily stability, UI, and 5-way navigator support. I still would have preferred to seen further tweaking to TCPMP, perhaps bringing it up to version .9 or so, before taking the plunge into releasing CorePlayer as a commercial app. Regardless, the most recent update is a welcome breath of fresh air for CorePlayer 1.02 users.
I suspect that if CorePlayer can survive this rough gestational period, subsequent updates will continue to bring more compelling performance and features onboard. While there's certainly nothing overwhelmingly wrong with CorePlayer the app (although some fingers can be pointed at CoreCodec's website and corporate attitude towards their customers), there's currently no overwhelming reason to purchase it when the mature, stable, and no-frills TCMP does nearly everything equally well at a price that can never be beat: free. Nevertheless, Palm OS mobile media affecionados would be well server to keep a close eye on the state of CorePlayer as it continues to mature and improve.
My overall rating:

3 / 5
CorePlayer for Palm OS is available for $29.95. A Windows Mobile version is also available. No trial version is available.
Article Comments
(12 comments)
The following comments are owned by whoever posted them. PalmInfocenter is not responsible for them in any way.
Please Login or register here to add your comments.