Palm Treo 755p Preview
By: Ryan Kairer
May 9, 2007
The Treo 755p is the latest Treo smartphone debuting on Sprint in the US. The 755p brings together the software and features of the Treo 700p to the refreshed 680/750 form-factor. From the outside the 755p appears almost identical to the Treo 680, however it has a number of distinctive characteristics that set it apart including high speed EVDO support, miniSD memory expansion, out of the box exchange push email support and a larger capacity battery.
Like the 680, the 755p will be available in a few different colors. Sprint will be carrying it in midnight blue and burgundy flavors, shown below. The midnight blue model is a slightly lighter shade of blue than the Treo 750's navy blue color. The outer casing is made of the smooth and grippy "soft touch finish" material. It gives it a much better fell in the hand and will stick to surfaces better than standard plastic found on earlier devices.
The keyboard and application buttons are identical to the 680/750 and are nice and sturdy. The power and notification LED has been cleverly blended in with the silver finish. It's still in the same spot above the Palm logo, however it can only be seen it when it is actively illuminated.
Other minor exterior changes include the IR window being moved to the right side and a covered miniSD slot. There is no reset button on the device, so you must take out and reseat the battery to perform a soft reset. The stylus included is mostly black plastic, with a metallic grip at the end.
Size wise, the Treo 755p has dimensions of 4.4" x 2.3" x 0.8" inches (111.7 x 58.4 x 20.3mm) and weighs in at 5.64 ounces (160g). It shares the exact same dimensions as the 658 & 750, and is only a negligible 0.2 ounces heavier.
755p Hardware
Inside, the Treo 755p is powered by a 312 MHz Intel XScale processor. This is the same chip found in the 650, 680 and 700p. It also features the same amount of internal memory as its predecessor with a 128 MB non-volitile (NVFS) chip for program memory of which 60 MB is user-available for storage. The miniSD memory expansion slot can accommodate regular and minSD SDHC cards up to 4 GB in size.
The display is the standard Palm OS Treo 1.74" x 1.74" inch, 320 x 320 pixel TFT screen that supporting up to 65,000 colors. The 755p includes a 1.3 megapixel digital camera built into the rear of the device next to the speaker grill. It can take photos at a max resolution of 1280 x 1024 and has 2x digital zoom. It can also record video clips with audio at a 352 x 288 resolution.
The 755p also has Bluetooth v1.2. This allows for wireless accessories such as GPS navigation kits and wireless Bluetooth headsets. Palm says users can expect increased compatibility with Bluetooth devices over previous models. A2DP support is still missing, but there is always Softick Audio Gateway.
The phone uses a (850/1900 MHz) CDMA radio. The 755p can access high speed EVDO wireless data networks and can fall back on a 1xRTT connection when out of range of an EVDO signal. Current EVDO speeds average around 300-600 kbps for general web surfing, and you can get bursts of up to 2 mbps when downloading larger files. Of course speed will vary and depends on a number of conditions and signal strength. You can also use the Treo 755p as a wireless modem for your laptop or desktop computer via Bluetooth or USB cable.
Battery
One unique feature the 755p brings is a larger capacity battery. It packs in a 1600mAh battery. Though this is larger than the 680 & 750's capacity, it is 200mAh less than the original 700p battery. The battery resides in a slightly deeper battery cavity than its sister models. This new size is unique to the 755p as batteries designed for previous Treo models are not physically compatible. Palm claims a continuous 4.2 hours talk time. Stay tuned for the full review for our take on battery life, as I've only had the unit for a few days and can't comment on real world performance just yet.
755p Software
The Treo 755p runs the Palm OS Garnet operating system v5.4.9. It basically includes the same set of software as the 700p with a few updated apps and added third party extras. One of the nicer features of the Treo 680 was its improved dialing and calling interface. One odd aspect of the 755p is that it includes the same phone dialer and call management software as the 700p and not the new and improved suite from the 680.
The Sprint version I'm currently testing contains a few extra apps bundled in the device ROM. These include a copy of Bejeweled, Google Maps, Sprint TV and On Demand (Handmark's Pocket Express). Sprint also includes built-in launcher icons that point to downloads of a Sprint IM application, GoodLink and a trial of Mobile Voice Command software. The Sprint IM program supports AIM, MSN and Yahoo accounts and requires a 15 cents per message usage charge. The trial version of Mobile Voice Command supports voice dialing (not from Bluetooth) and some common system commands and shortcuts.
Documents to Go v8 is also in the ROM for Microsoft Office (Word, Excel and Powerpoint) file support and PDF Files. A basic version of Pocket Tunes is included on the device for MP3 digital audio and music playback. It also features the same streaming audio and video support that debuted on the 700p.
The latest version of Versamail (v3.5.4) is included for email. This version supports Microsoft's Direct Push Technology with Exchange Server 2003 with SP2 or Exchange Server 2007. This provides automatic wireless updates of email, calendar and contact information. Blazer v4.5 is included for browsing the web. No changes here as is the same version included the 700p and 680.
Availability
The Treo 755p will be available beginning mid-May from Palm stores and online at Palm.com It also will be available at Sprint stores for as low as $279.99 after available discounts and promotions.
Stay tuned for more in-depth, full PalmInfocenter review soon. In the meantime if you have any questions about the Treo 755p, feel free to post a comment below and I'll do my best to answer.
UPDATE: You can read our in-depth Treo 755p review, or check out the 755p at Palm.
Treo 755p Photos
click for larger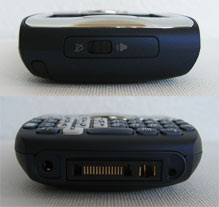 Article Comments
(78 comments)
The following comments are owned by whoever posted them. PalmInfocenter is not responsible for them in any way.
Please Login or register here to add your comments.

Only the first 50 comments are displayed within the article.
Click here for the full story discussion page...