Boxwave Releases First Extended 755p Battery
Tuesday, May 29, 2007 11:49:22 AM
The first 3rd party battery solution for the new Treo 755p has just hit the market. Boxwave's ElectraSpan Extended Battery is specifically designed to accomodate the battery well on the Treo 755p that is deeper than on its Treo 680 and 750 stablemates.
This high capacity rechargeable Li-Ion battery has a 2400mAh capacity, offering an 800mAh boost over the stock 755p battery. Boxwave's web site is advertising this as a 200% power boost over the stock 755p battery but this is not at all correct. Still, since CDMA phones sip energy more greedily than their GSM counterparts, this battery will come as welcome news to current and prospective 755p owners alike.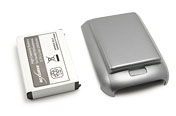 Of course, this extra power comes at the cost of the 755p's sleeker formfactor. Boxwave includes a custom-designed battery cover for the 755p that nevertheslss gives a protruding rump on the rear of the device. Also, another unfortunate result of the extended battery capacity is that the Boxwave battery door is a dark silver grey color (it appears the same as my Verizon 700p). This would definitely detract from the stylish blue and burgundy 755p color schemes offered by Sprint . There's also no word if the extended battery door is coated with the special rubberized paint on the stock Palm 755p battery door (it seems unlikely).
The availability of this ElectraSpan battery for the 755p now matches the earlier 700p's maximum battery capacity utilizing its stock battery door (a 2400mAh Seidio battery). For comparison purposes, a huge 3200mAh battery requiring a replacement battery door hump is available for the 700p/w and 650 Treos. See the review here.
The Boxwave 755p Electraspan battery is available now for $48.95 plus shipping. This is a supposed $37 savings off of the normal $85.95 regular price. Boxwave claim that the battery is currently in stock and ready to ship. Volume purchase orders and internal shipping services are available.
Article Comments
(7 comments)
The following comments are owned by whoever posted them. PalmInfocenter is not responsible for them in any way.
Please Login or register here to add your comments.