Zombie Attack Game Review
By: Kris Keilhack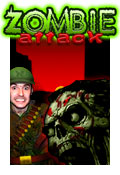 June 12, 2007
Overview
With no shortage of zombie-inspired forms of other media formats, the shuffling hordes of the living dead have finally made their way to the Palm OS. Designed by Deluxeware and published by Astraware, Zombie Attack is a unique comical horror-themed take on a standard puzzle-type game.
Three different gameplay modes are available to the player: Quick, Scenario, and Rescue Mission. For the purposes of this review, I usually played Quick mode though I did spend some time in the other game types. Zombie Attack is a single player-only title and
Zombie Attack's gameplay is easy to learn yet offers quite a challenge even on the basic Quick play settings against a single zombie and without the bomb option toggled. The user-selectable options such as bombs, starting corner, and number of opposing zombies adds quite a bit of replayability and customization to what would otherwise be a very straightforward action-puzzler. I usually preferred to set up a customized Quick or Rescue game instead of the pre-defined Scenario game where the options cannot be toggled.



Pros:
Great graphics in the splash screens. Native 320x480 support!
The usual solid Deluxeware programming and device compatibility
Addictive gameplay, especially in the faster-paced Quick game mode
Plenty of configurable gameplay settings and options
Cons:
Horror/zombie references seem tacked-on and would fit better with an action or role-playing game instead of a puzzle title
Graphics and text are almost too small on the Treo's screen. It can be difficult to discern the color of some of the adjacent squares during the heat of battle
Multiplayer support would be nice but plenty of options and 3 modes keep single player gameplay fresh
Technical Details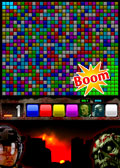 Palm T3, T5, TX and LifeDrive owners will all be rejoicing at the fact that Zombie Attack offers full 320x480 and 480x320 native support. Of course, support for the widely used 320x320 high resolution mode is present as well. The game does not run on 160x160 or OS 4.x Palm OS devices, however. I tested the initial release version 1.00 on my 700p and TX and it ran flawlessly from an expansion card. The game has no issues with the remapped button configuration on newer Palm devices.
Conclusion
It's encouraging to see developers still releasing top-flight games for the Palm OS such as this. Seeing support for the larger-screened PDAs that Palm seems to have forgotten about is certainly welcome news indeed. In fact, this title seems much more suited to devices like the Palm T3, T5, TX and LifeDrive than their smaller Treo brethren due to the more comfortable styli and larger, higher-resolution screens found on the PDAs.
I'd like to see Astraware and Deluxeware release an entire carcass of Zombie-themed Palm OS titles in several genres instead of just this single tasty morsel of flesh (a shooter, an RPG, or a graphical adventure similar to Broken Sword would be great choices to continue the Zombie theme). There's still life in Palm's undying OS so the hungry hordes of Palm OS fans still need software sustenance as well!
My Rating:

4 / 5
Zombie Attack can be purchased for $14.95 USD and a free trial version is available for download.
Article Comments
(3 comments)
The following comments are owned by whoever posted them. PalmInfocenter is not responsible for them in any way.
Please Login or register here to add your comments.