Palm Q3 FY08 Conference Call Highlights
Thursday, March 20, 2008 3:52:48 PM

Palm Inc announced its third consecutive quarterly loss today. The company posted a $31.5 million dollar loss despite an all time record in smartphone sell-through. The success of the Palm Centro drove an increased number of smartphone shipments but its lower average selling price did little to help Palm's bottom line.
In the quarterly conference call, Palm CEO Ed Colligan remarked it was a tough quarter for the company but then went into his usual upbeat and optimistic look ahead as he briefed analysts and investors on the companies long term prospects. Read on for the full highlights.
Colligan started of the call stating it was a tough quarter for Palm and that they still had a lot of work ahead of them. Colligan cited the declines in the handheld business, Palm's aging Windows Mobile product line and the lower than average selling price of the Centro for the revenue shortfall. He also remarked that the Treo 500v has not sold as well in Europe as they'd like.
Centro Stregnth
The Palm Centro was again a big bright spot for the company as it drove an all time high of 826,000 smartphone units shipped. The Centro is currently riding a wave of increasing sales of over 30k units per week, and is trending up in contrast to the usual smartphone sales track for Palm. The Centro is also bringing in new customers for Palm as its own early buyer study has shown that more than 70% of Centro buyers were "traditional" cell phone users. Twice as many Centro buyers than Treo buyers were under 35 and 95% of them have signed up for a data plan.
New Windows Mobile Products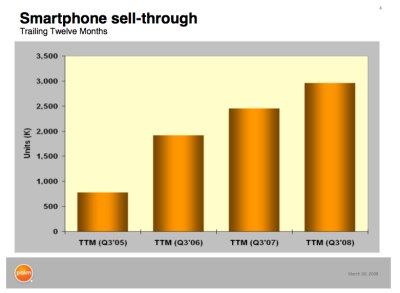 During the call Colligan made several references to its aging Windows Mobile line and announced that they would refresh the WM product line before the end of summer. He gave little specific details but did confirm it would be targeted at enterprise customers and would be keyboard based. He also confirmed it would be announced as a new Treo and said it would include Microsoft's latest offerings. He later remarked in the Q&A session that he felt it would be the "most competitive enterprise solution on the market."
As expected Palm exec's are tight lipped on specific details at this time, however the rumor-mill has been pretty active around the new Windows Mobile products. A recent report cited a device code-named the "Palm Drucker" sporting a 320x320 touchscreen, Windows Mobile 6.1 Professional and WiFi and GPS capabilities. A possible image of this same device was even included in the background of Bill Gate's recent CES keynote speech and presentation.
Palm Systems Software Update (aka Nova)
Colligan said the company is ahead of schedule in certain regards to their post recapitalization transformation. He also gave an update on the progress of the next generation operating system. He is standing by his earlier stated targets of a general announcement before years end and new products based on it debuting sometime in early 2009. He said the company is meeting its major milestones and in general they are "on track" on development.
During the quarter Palm's revenue mix was 88% smartphones and 12% handhelds. 82% of revenue came from the US, while 18% was International. Smartphone revenue was $275.4 million. Smartphone shipments were at 826k, up from 686k, 689k in the previous two quarters. Smartphone sell-through was at 833k units with a $331 per unit average selling price.
Handheld revenue for the quarter was $36.7 million. 198,000 units were shipped for a 38% year over year decline. Handheld sell-through was 282k units down from 323k the previous quarter. Palm executives gave no mention of addressing the declining handheld market or refreshing the existing product line.
Although Palm has decided not to provide guidance for future quarters while it focuses on its long term prospects, Colligan did see the first half of FY09 (calendar July 2008 and on) as a turning point on the road back to profitability. He stated that by then continuing Centro sales combined with the push for more higher end Treo's powered by the new Windows Mobile products will drive growth and demand in future quarters.
The following audio clip is from Colligan's opening remarks about the progress and work on the next generation operating system.
Article Comments
(29 comments)
The following comments are owned by whoever posted them. PalmInfocenter is not responsible for them in any way.
Please Login or register here to add your comments.