Follow the Latest Headlines At Tech News Tube
Monday, September 22, 2008 12:00:01 AM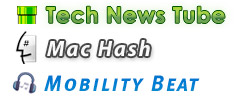 Tech news enthusiasts have three new resources to follow the latest headlines with the debut of TechNewsTube.com, MacHash.com and the newly redesigned MobilityBeat.com.
These new destinations aggregate the latest headlines and articles from the web's best sources in one place. The sites offer an easy to follow, scannable format to stay on top of the day's news in your browser and mobile devices.
MobilityBeat - Is a mobile tech news resource which provides up to date coverage of the mobile tech space. MobilityBeat covers over 100 sources in one spot with an even deeper selection of detailed categories. Readers can also find the latest news broken down by platform including sections for Palm OS, Windows Mobile, iPhone, BlackBerry and Symbian.
Tech News Tube - Provides up to the minute technology news headlines. The site is best described as a series of news. (It is not a dump truck.)
Mac Hash - Covers the latest Apple news and rumors from all over the web. You can also get your Mac news fix on the go with the iPhone optimized version.
As new articles are posted throughout the day, headlines are picked up in real time. In addition to its streamlined, chronological headline display, each site also offers a detailed view for more in depth headline scanning. All of the sites also provide a thoughtfully designed mobile phone formatted version.
"Tech News Tube, Mac Hash and MobilityBeat present an extremely efficient way to stay up to date on technology news topics on the web. Instead of visiting five, ten or even fifty-plus individual sites, you can save time and quickly scan them all in one place." remarked Ryan Kairer, principal architect of the new sites.
[MobileInfocenter press release]
[PRWEB]
Article Comments
(14 comments)
The following comments are owned by whoever posted them. PalmInfocenter is not responsible for them in any way.
Please Login or register here to add your comments.