TouchPad TouchStone Dock Review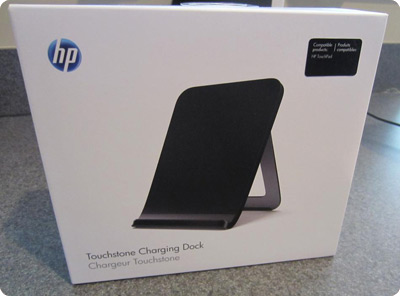 By: Kris Keilhack
August, 9, 2011
Palm's original Touchstone inductive charging dock, first shown alongside the original Pre and WebOS CES 2009, was one of the most heralded mobile phone accessories of all-time. Some users, myself included, even considered it to be an overall better-engineered piece of equipment than the phone it was designed to charge. HP has thankfully kept Palm's induction charging technology legacy alive and made it standard fitment to all of their new devices, including the TouchPad.
HP surprisingly included a TouchStone charging dock in the box alongside our 32Gb TouchPad review unit, so read on for our review of the TouchPad's most distinctive first-party accessory.
Packaging
The Touchstone Dock definitely mimics its companion device with a modern, streamlined, white and black aesthetic. It certainly will stand out on retail shelves as an HP-branded item, though some could mistake it for an Apple product at first glance.
The dock comes packaged in a miniature version of the TouchPad's rigid white sleeve and contains a matte black interior box containing nothing more than the AC adapter and a smattering of paperwork.
Design & Aesthetics
Initially, the HP TouchStone looks a tad more pedestrian than the original puck-like Palm TouchStone dock. While the TouchPad can be positioned in a landscape orientation, the design of the TouchStone tends to favor docking in portrait mode. Moving around to the device's backside, I was somewhat disappointingly to see that the back panel plays host to a fixed USB cord that connects to the conventional cylindrical Palm/HP USB to AC adapter. Again, not a major issue to me but this could bother some users who prefer a removable cable like the original Palm TouchStone. I certainly prefer this arrangement than the deeply-recessed microUSB port on the original TouchStone that rendered it incompatible with many non-Palm cables.

Utilizing a rear-mounted infinitely adjustable kickstand, this dock a huge range of adjustability compared to the original Palm dock. The rake of the kickstand can be switched from a nearly vertical orientation to laying almost flat on a desktop, perhaps to make for more comfortable e-book reading or web browsing while being charged. The easy on, easy off nature of the dock makes it ideal for dropping the TouchPad on the dock for a quick top-off charge during the day.
Unsurprisingly, HP's take on the Touchstone simply stands on a desktop instead of adhering via tiny suction cups. While HP has made no official announcement just yet, this dock would hopefully be compatible with the smaller 7" TouchPad slated for release in the coming months.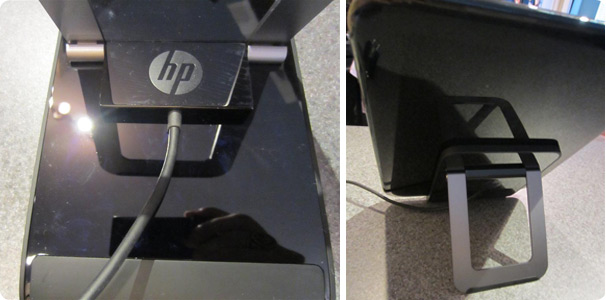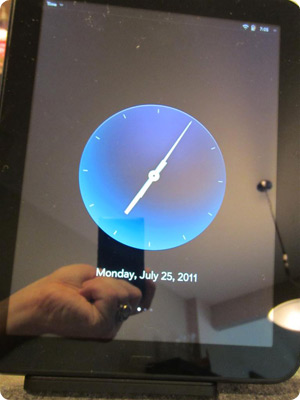 Aside from the inductive charging capabilities and compatibility with HP's new Exhibition Mode, there is very little in the way of functionality on this dock. It simply holds and charges a TouchPad with a minimum of fuss. I had no issues whatsoever with the TouchPad not charging or falling off of the dock. The only caveat is that the TouchPad must be placed squarely in the middle of the dock in order to charge, as it will not charge if it's offset to either side by more than a tiny bit.
Some informal testing did reveal the charge rate via inductive charging to take a bit more time than when charged directly via MicroUSB but the added convenience is well worth the slower recharge rate, especially considering the TouchPad's fairly impressive battery life.
Build Quality
The original Palm TouchStone dock had a fantastically weighted feel initially, though some users reported problems over time with substandard interior components and faulty magnets. Since the TouchPad's TouchStone dock is devoid of any magnets, it relies on a small rubberized lip to keep the TouchPad secure docked while charging. I was especially impressed by the feel of the adjustable rear stand, as it was a nice brushed aluminum and seemed durable enough to hold up to years of adjustments. Overall, this seems to be a very well-built item and, assuming no form factor or spec changes are made, could easily last the user through several iterations of TouchPad.
Conclusion & Overall Value
Make no bones about it, a tablet is already a splurge item accessory for most buyers, so a charging dock of this sort with a $79.99 MSRP definitely rings in as a luxurious extra for well-heeled TouchPad buyers. Inductive charging is no longer a rarity or a Palm-exclusive like it was two years ago, and HP appears to be unaware of this fact with its recommended TouchStone pricing. Cost issues aside, I found this to be an exceedingly well-designed and constructed cradle given its solitary function for charging.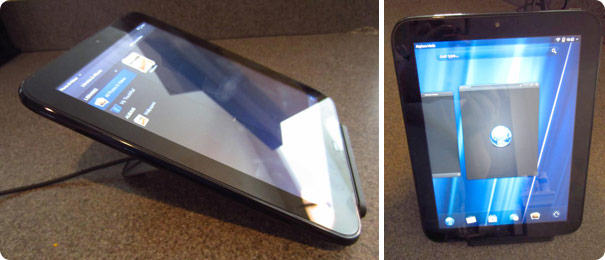 HP's dock definitely stands out from the pack of competing tablet docks with its native inductive charging tech but it is quite debatable if that is truly worth the substantial price premium. The $30 to $50 range seems to be the "sweet spot" for OEM tablet docks, with many Android tablet manufacturers already adding dock features such as multiple USB ports, remote control, analog audio or HDMI video output at lower MSRPs.
Depending on how TouchPad sales fare over the next few quarters, this seems to be the ideal sort of device to use as a nice item to bundle with higher-end TouchPad SKUs or offer as a limited-time promotional freebie. Barring that, HP could simply drop its price to enhance the TouchStone's appeal to a much wider audience.
Final Rating: 8/10
Article Comments
(18 comments)
The following comments are owned by whoever posted them. PalmInfocenter is not responsible for them in any way.
Please Login or register here to add your comments.