Review: Flip Top Metal Case for SJ30 / SJ20 / SJ22
By:
Kezza
March 10, 2003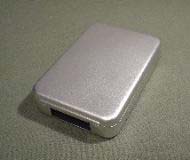 Many people prefer the look and protection of a hard case over that of a soft case. Innopocket previously released a side-open hard case for the Clie SJ/SL series PDAs, and now has a top-open variety. The Flip-Top Metal Deluxe Case is made of anodized aluminum and features neoprene padding, MS storage, and cutouts for various aspects of the Clie?s hardware. This case sells at the Innopocket website for $33.
Design
The Innopocket hard case is made of anodized aluminum, which is known for being quite scratch-resistant. It is lined with a thin layer of neoprene and features cutouts for the Hotsync port, the jog dial and back button, the top of the Clie (power button, MS slot, IR port), stylus silo, wrist strap loop, and reset button. The Clie is secured with the help of two neoprene bumpers on the bottom of the case (these ensure a tight fit), as well as a plastic lock using the holes on the back of the Clie (identical to the locking mechanism of the factory-supplied flip cover). There is also a cutout in the case behind the PDA for an extra MS. The back of the Clie has a bulge for the battery, and this case smoothes out that bump by filling in the extra space with the plastic for the lock as well as the aforementioned MS cutout. There are no logos of any kind on the case, and overall it has a sleek and stylish appearance.
The Clie fits snugly in the case, without any ability to shift around. The locking mechanism can be a bit of a pain to engage the first couple times, but those who don't use a cradle to sync shouldn't plan on taking it out of the case all that often. Unless, of course, they also have an extra MS that they need to frequently access.
The side of the case has two grippy spots to help hold on when opening the lid, and the lid is held closed with two small clasps at the bottom. "Clasp" isn't exactly the right word, but they're little bits of aluminum that fit into slots and hold the whole thing shut. They have little nubs on them, but there?s no audible "click" when engaging them. Also, if they're not seated just right, it takes very little force to disengage the clasps and swing the top open. It has not come open accidentally in my purse or jacket pocket so far. They do hold it closed tightly enough that the James T. Kirk wrist flip is totally out of the question for opening the case, but not for closing it. It's actually my preferred method. ;) The lid opens about 200 degrees: far enough that it's never in your way, but too far to beam anything while the lid is open. It's easy enough to just hold it up a little while beaming that this shouldn't be a deal breaker for anyone.
I don't find the exterior to be slippery at all, and has a nice overall feel. The aluminum seems to do a pretty good job of not showing fingerprints and the rough texture minimizes the appearance of scratches. Large scratches are going to show up, however. After a week in my purse with my keys and other objects, I have a small number of thin scratches that aren't noticeable without close inspection. The aluminum is cut smoothly, without a jagged edge anywhere. The two halves of the case meet perfectly, and the hinge moves without sticking or squeaking. In fact, the case doesn't squeak or creak anywhere.
The neoprene lining is affixed evenly, and cut slightly large all over. When I pressed down the slack around the edges of the top half of the neoprene, I got a few air bubbles, but that's pretty much entirely my fault. I was a little disappointed that the neoprene wasn't totally affixed when I took the case out of its packaging. It hasn't popped up or peeled at all since I pressed it down. While the neoprene makes me feel a little more secure, I don't feel like this case is padded enough to really protect from a major fall. A minor drop onto wood or carpeting (say, 2-3 feet) wouldn't be an issue, and the corners are reinforced well enough that the screen probably won't crack from landing on a corner. I'm sure this would withstand a good deal of crushing, though, and would prevent screen damage from a misstep, etc. I can't bend any part of this case with my bare hands. Still, don't run over it with your car and expect everything to be okay.
My major issue with this case is also one of its best selling points: the cutouts. I don't mind the cutout for the Hotsync port on the bottom (but dust-freaks might not be too stoked about it), the jog dial and back button cutout is perfect (but people with big thumbs might still be a bit uncomfortable), the stylus cutout is perfect, and the reset pin is totally accessible. It's the top. The power button is close enough to the edge of the aluminum that it makes it really difficult to press while the case is open at all. The MS slot is also completely exposed, and I've actually pulled my Clie out of my purse to find the MS accidentally ejected. Gah! This makes me nervous, plain and simple. I'm not just worried about my MS coming out, I'm worried that any abuse of the slot while it's being jostled about in my bag is going to actually do long-term damage to the slot mechanism.
Conclusions
All in all I'm pretty impressed with the Innopocket case, and I would recommend it as a protective case for anyone looking for the features it offers. There are other competitors in this particular niche market (DSI also has a popular aluminum hard case for the SJ/SL series), and choosing which one ultimately comes down to a matter of personal taste. I plan on sticking with my leather case from Covertec, but if I had to spend an extended time with my Clie in my back pocket, I?d choose to use this case. It?s is a solid, attractive, well-made case that serves its function nicely.
RATING: 8.5 / 10

Usability:
Appearance:
Value:
Innopocket 3-in-1 Stylus for SJ/SL/T/NR/NX series Clies


Innopocket also makes an aluminum stylus that matches this case nicely. It is a standard-sized stylus that fits in the silo perfectly. It has a white plastic rounded writing tip, a white rounded rubber nub on the other end (good for pressing hardware buttons and on-screen taps), a reset pin under the tip and a refillable ballpoint pen under the other end. This stylus sells for $15 at the Innopocket website.
Overall the stylus has a good grip (the aluminum is matte, not shiny), and a great overall weight and balance. The writing tip is smooth and I prefer it over the stock Sony stylus. The rubber end is invaluable for long periods of screen tapping. It doesn't move over the screen smoothly, it grips, so less force is required for on-screen taps. It's also good for pressing the hardware buttons, including the power button (which is a little tough to get to in the Innopocket case). The ballpoint pen writes as smoothly as one could expect. There was a small amount of skipping and blobbing, but no more than most other pens would provide. Also, this takes a pretty standard size for refills, so those who prefer another brand of pen refill may be able to get one for this stylus. The reset pin is pretty unspectacular, as one would expect. My only qualm is that Innopocket didn't make it long enough to reset a handheld through the hard case that they made, so it's useless if you're also using said case. The end of the stylus that you grip to remove it from the silo is smooth and stylish, but for me it took a little getting used to. I'm accustomed to sticking my thumbnail in one of the notches on the stock stylus to remove it from the silo. Since there are no notches here, either use the pad of your thumb or finger on the curved area to push it out, or use your nail to pull from underneath. This also serves as the cap for the pen, and doesn't always sit down and stay there when you want it to. Occasionally it'll start to rattle around, and it has to be reseated to keep from turning on its axi
Because the whole stylus is made of metal and the Clie uses little bits of metal to hold the stylus in the silo, there's a distinct metal-on-metal scrrrritch sound when you install or remove the stylus from the silo. I got used to it pretty fast, and the metal isn't particularly scratched in the area where it gets engaged. There's a couple slightly worn areas, but it's nothing you can see without looking very closely.
Overall I'm pretty fond of this stylus. It's nice to have a pen handy, and it's quite attractive. It's still in my Clie, although the Innopocket hard case didn't quite make the cut for me. One major reason it stays is I adore the little rubber nub at the top -- it's great for games that involve a lot of tapping. At $15 it is a little on the pricey side, but I think it?s worth it.
RATING: 9 / 10

Usability:
Appearance:
Value:
Article Comments
(5 comments)
The following comments are owned by whoever posted them. PalmInfocenter is not responsible for them in any way.
Please Login or register here to add your comments.

Comments Closed
This article is no longer accepting new comments.