Review: BoxWave miniSync USB Cable-Charger
By: Davy Fields (davy@davyfields.com)
March 17, 2003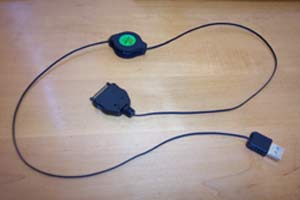 The BoxWave miniSync USB Cable can both charge and sync a wide range of palm os handhelds. Its most remarkable feature is its ability to extend from a compact 5 inch cord to almost three feet long.
Installation
The miniSync comes in a small box with brief instructions on the back. Since it is essentially simple cable, it's pretty self-explanatory and no additional drivers are necessary. To install, plug it into a computer's USB port and connect your handheld. There is no physical hotsync button, so you must tap the icon in the hotsync software to initiate a sync.
Impressions
Just to set the tone, If you're looking for quantity in this review, you're not in the right place. It is a simply a cable, with an innovative twist. First and foremost, it syncs great? I did not notice any difference in the Hotsync speed. Secondly, the miniSync cable can also supply a power charge to your handheld. There's some caveats with that... obviously, your computer has to be on and if you're using a laptop on battery power, it can add a bit of a battery drain.
So, we know that it works great as a hotsync-charger unit, but what about the design? The miniSync is a tiny 5 inches when closed, and pulls out to a generous 35 inches of cord when extended. You pull it out as far as you want, and it will stay in position. When you're done, just pull it out a little bit and the cord retracts back in. But be careful? it really snaps back! Check out this quicktime movie clip (116k) to see it in action. Overall, it's a really smart design, and darn if it doesn't look like something off of the batman utility belt.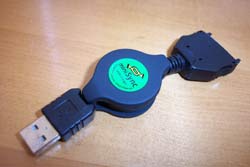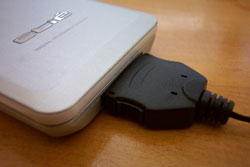 Conclusion
So, if you're a frequent traveler or you're looking for a fancy way to reduce desk clutter, the miniSync is deserves a look. Besides being a great hotsync-charger solutions, it has a really spiffy design as well, and is a must for anyone who's a real palm aficionado. The miniSync is available for $24.95 from Boxwave, there is a $18.50 web special.

PROS

CONS

Goes from ultra small to generously long
Charges using your computer's USB port

Cord is a little thin
No hotsync button
RATING: 9 / 10

Design:
stores small, reduces clutter
Features:
extends to 35"
Value:
not much more than replacement cables
Article Comments
(24 comments)
The following comments are owned by whoever posted them. PalmInfocenter is not responsible for them in any way.
Please Login or register here to add your comments.

Comments Closed
This article is no longer accepting new comments.