Good Announces Handheld Security Application
Monday, November 07, 2005 8:59:38 PM
Good Technology today extended its mobile security and management product family with the addition of Good Mobile Defense. Good Mobile Defense broadens GoodLink's end-to-end security model on the handheld to protect third party applications and handheld features with the same level of security and manageability found in GoodLink and GoodAccess.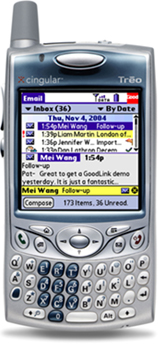 Good Mobile Defense provides complete protection of sensitive data across a variety of handheld platforms including Windows Mobile Pocket PC and Smartphone, Palm OS, and Symbian. By using Good Mobile Defense, GoodLink, and GoodAccess, enterprises will be able to increase user uptime, ease IT administration and enforce compliance with corporate security policies and government regulations such as GLB, SB-1386, and HIPAA. A combination of server-side and handheld software, Good Mobile Defense provides:
Advanced Password Management, including protective action after excessive failed password attempts, protection for standard and third party passwords, and the enablement of temporary administrative passwords.
Application Lockdown, including the ability to set and manage application "white lists" and application launch approval.
Handheld Feature Control, including the ability to disable data transfer ports such as Bluetooth, Wifi or HotSync, and the ability to lock down handheld features such as cameras, microphones and speakers.
Advanced Encryption Management, providing options to control the encryption of native handheld memory, storage cards, and specific applications, using AES 256, Blowfish 64, 128 or 512.
Data Erase after excessive failed password and authentication attempts, as well as remote wipe of all handheld applications.
Good's Secure Over The Air technology enables IT to set and enforce all of these policies wirelessly, without ever having to touch the device, for lower handheld computing TCO. In addition, IT can use Good Mobile Defense in conjunction with GoodLink Compliance Manager to ensure that prerequisite applications such as McAfee's Mobile VirusScan are present on handhelds before corporate data is transmitted.
"In the past, mobile security enforcement was contingent upon end-users installing and maintaining security policies and applications on the handheld, and IT had limited visibility into and control of the process and the end result," said Rick Osterloh, VP Products, Good Technology. "Good Mobile Defense closes the loop on mobile security. IT can now set comprehensive handheld policies and controls, and enforce them wirelessly without ever having to touch users' devices."
Good Mobile Defense builds upon GoodLink's end-to-end Network Operations Center (NOC)-based security solution, protecting information assets from the enterprise perimeter, through data transport, down to the handheld. Good's Secure Transport Service (GSTS), which provides 24x7 data monitoring, service and support, offers the ultimate layer of security and information delivery insurance that enterprises require. This comprehensive solution encompasses:
Enterprise perimeter security: GoodLink secures the network perimeter through a single outbound connection through the GSTS, which eliminates the vulnerabilities of installing technology in the DMZ or punching holes in the corporate firewall, associated with NOC-less solutions. In addition, GoodLink provides role- and policy-based administration for granular, user-specific control of GoodLink administration and corporate data access.
Transport security: Through the GSTS, GoodLink provides FIPS-certified end-to-end, 192-bit AES and Secure Socket Layer (SSL) encryption for maximum protection of corporate information assets as they traverse the public data network.
Handheld security: GoodLink Compliance Manager(TM) safeguards the handheld and resident data with the ability to stipulate and guarantee the presence of prerequisite applications before GoodLink or other applications can run. Secure OTA distribution and installation of applications such as McAfee Mobile VirusScan offer an enhanced level of handheld security. In addition, Good provides advanced password management, application lockdown, handheld feature control, advanced encryption management and data erase though Good Mobile Defense.
Good Mobile Defense will be available in January 2006 as a stand alone product and as an extension to GoodLink and GoodAccess.
Leave a comment...

Click on the
Start New Comment button
below to begin a discussion.
You must be
registered
and
logged in
to add comments.