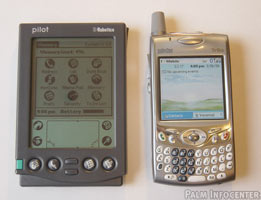 Palm Pilot 1000 Retrospective
By: Ryan Kairer - PalmInfocenter
March 27, 2006
The worlds first successful PDA and the first Palm OS handheld, the Pilot 1000, has become a mobile technology icon. This was the device that rejuvenated the PDA industry and made the term 'Palm Pilot' a household name. Originally released in March 1996, the Pilot 1000 debuted with 128k of memory and a monochrome black on green glass touch-screen display.
The Pilot was the first device of its kind to sync out the box with either a Windows 95, 3.1 or Macintosh desktop computer. The original 'Pilot organizer' applications included: Date Book, Address Book, To Do List, Memo Pad, Calculator, Security and HotSync. It was marketed as "The one touch organizer" and ran for a few weeks on two AAA batteries.
The Pilot 1000 handheld debuted with a retail price of $299 USD. It could store 750 addresses, one year of appointments, 100 to-do items and 100 memos, or any combination thereof. It also had a removable slot on the back that revealed a memory expansion slot that plugged into the main-board. The Pilot 5000 supported five times as much data and sold for $369. Palm later offered a 1MB memory upgrade card for $149.
PALM PILOT 1000 SPECIFICATIONS

Operating System:
Palm OS v1.0
Size & Weight:
4.7 x 3.2 x .7 inches (120x80x18 mm); 5.7 oz (160g)
Processor:
Motorola dragonball 68328 16 MHz
Memory:
128k memory
Expansion:
custom motherboard memory clip slot
Screen:
160x160 pixel; 4-shade monochrome (no backlight)
Audio:
internal piezo speaker
Power:
2 AAA battery cells
Connectivity:
Serial Hotsync Port, desktop cradle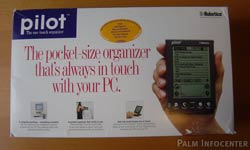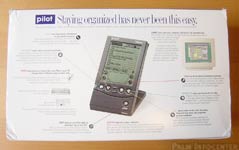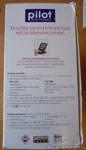 The Original Pilot 1000 retail box.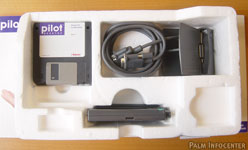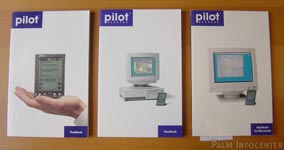 Inside the box and Pilot handbook and Pilot Desktop manuals for Windows and Macintosh.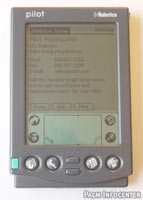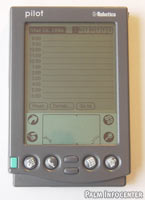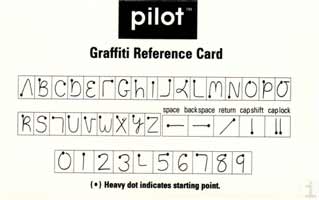 Datebook, Address View and original graffiti reference card.
Click on any image above for a larger version
---
Original Pilot 1000 Press Release
U.S. Robotics Launches Breakthrough Pocket-Size Connected Organizer for PC Users; New Pilot connected organizer includes comprehensive PIM software with built-in, one- touch PC connectivity, and instant response for $299
Business Wire, Jan 29, 1996
DEMO `96 - The Palm Computing Division of U.S. Robotics (NASDAQ:USRX) today announced Pilot, a line of handheld electronic connected organizers designed to work as companion products to a desktop or laptop computer.
Created by U.S. Robotics to be the first connected organizer, the Pilot family of products is designed to meet the needs of PC users who want to manage their activities both remotely and on their desktops.
Unlike other palmtops, PDAs and organizers available today, Pilot automatically synchronizes its information with a personal computer or PC LAN at the touch of a button. Pilot also features shirt-pocket size, instant response, and an elegant graphical user interface. A comprehensive suite of personal information management (PIM) software -- including date book, address book, to-do list, calculator, and note-taking applications -- along with a companion desktop PIM, connectivity software and an innovative desktop cradle, are all included with Pilot for a breakthrough price of $299.
Pilot is based on the Palm Operating System (Palm OS), which was also announced today at Demo `96. The Palm OS is a handheld computer operating system platform that enables low- cost, low power, small form-factor devices to integrate seamlessly with desktop personal computers. It is partitioned into two parts: highly efficient operating system software for the handheld; and Windows- or Macintosh-based software that manages synchronization of the handheld and the PC.
While Pilot will ship with a complete suite of PIM applications, the Palm OS also offers broad compatibility with existing PIM software to accommodate users' existing PIM applications and data. Many popular applications will be supported, including Ascend, from Franklin Quest Co.; DataSync, from IntelliLink Corp.; Lotus Organizer; Managing Your Money, from Meca Software; Microsoft Schedule+; Now Up-to-Date, from Now Software, Inc.; OnTime, from Campbell Services, Inc.; SideKick, from Starfish Software; and others.
Jonathan Zakin, executive vice president of strategy and corporate development for U.S. Robotics, stated, "We are looking to Palm to help us extend the wide area network more directly to the individual. Palm's operating system and hardware platform will form the basis for a series of pocket-sized products addressing the needs of mobile professionals." Kimball Brown, vice president of Mobile Computing for Dataquest stated, "The Pilot finally shows the industry the form factor needed to drive user demand, and it has addressed synchronization better than any competitor's product with high performance at a reasonable price. We expect this product to expand the whole market for handhelds."
Pilot Features and Benefits:
-- Shirt-Pocket Size. At just 5.5 ounces, Pilot is small and light enough to fit in a shirt pocket or small purse. Users can carry their important personal information with them anywhere.
-- A Complete Set of Personal Information Management (PIM) Software. Pilot ships with a suite of application software, for both the organizer and a desktop PC, which provides a complete, easy-to-use set of scheduling, address book, to-do lists, memo pad and calculator functions. Users may enter or update information in either system and then instantly synchronize the data between systems at any time by pressing a single button.
-- One-Touch PC Connectivity. With U.S. Robotics' HotSync technology, Pilot serves as an extension of a personal computer or LAN that the user can carry at all times. To synchronize Pilot with the PC, the user places Pilot in its small docking cradle, connected via a serial cable or wireline modem to the PC, and touches the HotSync button on the cradle. The HotSync software then compares the information on Pilot with the version on the PC, and updates both instantaneously to reflect the new information. Because the software runs in the background, this process requires virtually no user interaction.
Pilot's desktop component enables users to enter text on their PC's full-size keyboard and view the applications on their large monitor. When ready to go, users simply "HotSync" their data and take it with them. The software also can support several Pilot users with a single PC, so one person can handle scheduling and updating for several others.
-- Speed and Simplicity. Pilot's intuitive, compact user interface and hardware design are optimized for instant data access. Using a few physical buttons and a touch screen display users can access most of their information with a single touch. The Palm OS and Pilot applications have near-instantaneous response. This is the first product that is easier and faster to use than pen and paper.
-- Easy Access to Data. To accommodate a user's existing information, Pilot imports and exports data in standard file formats. The product also integrates seamlessly with Microsoft Office applications. U.S. Robotics is working with PIM and group scheduling developers to provide seamless one-button links to existing desktop applications.
-- Extendible Architecture. Pilot contains a small, pluggable memory module that is user- replaceable for adding memory or upgrading software. In addition, users will be able to attach communications add-on products, such as modems and pagers, as they become available for Pilot.
-- Graffiti Text Entry Software. Pilot features an enhanced version of U.S. Robotics' award- winning Graffiti power writing software. Graffiti's ease of use and functionality have made it a de facto standard in the handheld computing market. Enabling users to enter data at up to 30 words per minute with 100% accuracy, Graffiti is the most robust, complete way to enter text into handheld devices. It is supported by the majority of leading industry platform vendors.
-- Windows and Macintosh Compatibility. Full support for Windows 3.1, Windows 95, and Macintosh OS System 7.0 and above ensures that users can work with most standard personal computers and can share information with other application programs on their PCs.
-- Great Value. A $299 price point for Pilot positions the product at a much lower price level than competing PDAs and palmtop computers. Pilot is also priced competitively with electronic organizers. None of these products offer Pilot's critical benefit of built-in seamless PC connectivity. Separate connectivity software options for organizers typically cost about $100.
An Ideal Platform for Software Developers and OEMs
The Palm Operating System is an open, flexible architecture designed specifically for small form-factor handheld devices that need to synchronize with a PC or network. Developer tools for the Palm OS enable developers to create new Pilot applications and "conduits." Conduits are links between Pilot application databases and desktop applications. Applications for the handheld device are developed on the Macintosh using Macintosh Programmers Workshop (MPW) and MetroWerks' CodeWarrior. Conduit development is done on the target desktop platform (Windows or Macintosh) using standard tools, including Visual C++ and MFC under Windows.
Distribution, Pricing and Availability
Pilot will be distributed through leading consumer electronics and computer stores. The Pilot 1000 unit carries an average street price of $299 and supports 750 addresses, one year of appointments, 100 to-do items and 100 memos, or any combination thereof. The Pilot 5000 supports five times as much data for an average street price of $369. A memory upgrade option that supports up to 10,000 records will also be available for $149. Pilot 1000 and Pilot 5000 will be available for PCs running Windows 3.1 and Windows 95 in March, 1996. Both versions will be available for Macintosh computers running System 7.0 and above in May, 1996. For further product information, customers can contact the Palm Computing Division of U.S. Robotics at 800-881-7256 or visit the Palm web site at http://www.usr.com/palm.
The Palm Computing Division of U.S. Robotics is a leading developer of handheld computing systems. Headquartered in Los Altos, Calif., it designs, develops and markets handheld computing products that include the Palm Operating System, the Pilot family of connected organizers, personal information management applications, desktop to handheld computer connectivity software and Graffiti power writing technology.
U.S. Robotics is one of the world's leading suppliers of products and systems that provide access to information. The company designs, manufactures, markets and supports remote access servers, enterprise communications systems, desktop/mobile client products, modems and telephony products that connect computers and other equipment over analog, digital and switched cellular networks, enabling users to gain access to, manage and share data, fax and voice information. Its customers include Internet service providers, regional Bell operating companies and a wide range of other large corporations, businesses, institutions and individuals. The company's 1995 sales were $889.3 million
Article Comments
(13 comments)
The following comments are owned by whoever posted them. PalmInfocenter is not responsible for them in any way.
Please Login or register here to add your comments.