Exact II Review for Palm OS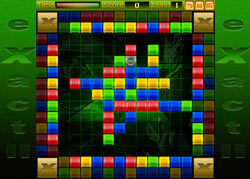 By: Kris Keilhack - PalmInfocenter
March 31st, 2006
Anyone who knows my gaming habits knows there are three genres I do not usually spend much time on: Sports, RPGs, and puzzlers. Unfortunately for me, the vast majority of the Palm gaming scene is comprised of various puzzle titles. Occasionally a rare game will sneak in underneath the radar and manage to please even this jaded action gamer. Tetris, Bejeweled, and now Deluxeware's Exact II are at the top of my short list of "must have" puzzle titles.
Gameplay
Exact II is first and foremost a puzzler with a lot of "zip". Much like Tetris, this "zip" results from neatly requiring both luck AND skill to succeed in the game. Three gameplay modes are available: Arcade, Strategy, and Timed with three levels of difficulty for each mode. I usually play in arcade mode, hard difficulty level) The game's basic premise involves trying to match similarly colored bricks (red, green, blue, yellow), three or more at a time, in order to clear the playing field and/or beat the game's timer. While it sounds ridiculously easy-and the easy difficulty certainly is that-the game's difficulty picks up substantially after a few rounds in hard mode. Bonus points are awarded for complex multi-brick eliminations. There are a few special function bricks that appear periodically such as exploding dynamite bricks, mystery color changing bricks and metal weight bricks that shift your entire row over a notch.
Sometimes when trying to squeeze in a quick game during lunch break I tried to play a much of a fast-paced game as possible. Other times I was more contemplative and carefully plotted each and every move. This kind of adaptability to fit one's current mood or time allotment is the hallmark of an excellent and addictive game! Hats off to Deluxeware!
Graphics & Sound
I've been a registered user of this game since the early days of Exact. The audio/visual improvements made in Exact II over the original version are very welcome to the eyes and ears. The graphics are nothing spectacular but they are professionally done, vibrantly colorful and serve their purpose for a puzzle title. 320x480 support is an always-welcome touch as is the skinnable playfield. Effects animation is sparse but the block clearing sequences are well done and easy on the eyes.
A rousing digitized techno theme song plays constantly throughout the game and the menu screen. It's quite nice and brings to mind something you would've heard in an Amiga MOD circa 1992. It establishes the mood nicely but it may become tiring after a while to some players. Fortunately, music and/or SFX completely muted. Music is available on any OS 5 Palm device or Sony Clie with OS 5.2 or higher. All of the expected sound effects are accounted for and do a serviceable job. I especially enjoy the brick-clearing noise as well as the metallic clank of some special function bricks.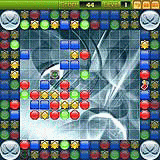 Control & Misc
Exact II is a well-programmed little game that has been stable on every Palm device I've owned over the past few years. It runs on any device ranging from an OS 3.5 160x160 mono unit (Palm Vx or IIIxe) all the way up to a TX or LifeDrive. I've been running it for a couple of years now off of my SD card with no issues whatsoever. All game control is stylus-based.
Conclusion
One of the best puzzle titles on ANY platform and certainly on the Palm OS. I've been playing this game a few times a week for years now and have yet to tire of it. It might not have the name recognition of Tetris but that doesn't make it any less addictive or compelling!
Overall rating:

4.5 / 5 stars
Exact II for Palm OS
Price: $14.95
Article Comments
(4 comments)
The following comments are owned by whoever posted them. PalmInfocenter is not responsible for them in any way.
Please Login or register here to add your comments.