Handmark Tetris Review for Palm OS
By: Kris Keilhack
June 2nd, 2006
History on Palm OS
Tetris on the Palm OS has had a long but rather inglorious history. The original Pocket Express Entertainment Pack (available on a pre-loaded Springboard module and a MultiMedia Card) from 2001 compiled Tetris Classic alongside Lode Runner (another favorite of mine from the '80s) and several other forgettable card & board games.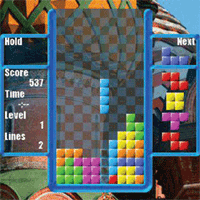 Handmark then acquired the rights to Tetris on Palm OS. They re-released the Tetris Classics collection, giving Tetris a very mild upgrade for OS 5.x devices and replacing Lode Runner with a few more puzzle titles. This was a decent version of Tetris but was handicapped by a feeble graphics, non-existent sound and the compatibility/control issues with newer NVFS Palm devices left something to be desired. Now, after a long wait, version 2.0, developed by Astraware and published by Handmark/Electronic Arts is available.
Gameplay & Overview
Since most of the world is familiar with Tetris, I'll leave it to Wikipedia to give a very detailed overview of the gameplay we've all come to love.
Four gameplay modes are present:
Marathon (aka "classic" Tetris)
40 Lines (clear down 40 line for a quick game)
Ultra 2 Minutes & Ultra 3 Minutes (clear as many lines as possible as the clock winds down)
Sadly, no multiplayer or head-to-head modes are supported by this version of Tetris.
A number of gameplay options can be toggled:
The "next" piece can display one, five or zero upcoming blocks.
"Hold" feature (to delay a piece for later usage) can be toggled on and off.?
A "ghost" piece feature (shows where a piece is going to fall via a translucent ghost piece at the bottom of the well) can be toggled on or off.
"Lock down" can be toggled between infinite and classic modes
I tested the game in Marathon mode, 1 preview piece and all other options set to "off" or "classic" mode.
Graphics & Sound
Handmark has really given ol' Tetris an impressive facelift this time around. Attractive splash title & high score screens give a positive graphical impression from the start. And, yes, the fancy Roger Dean Tetris logo is still present in this version…
Nicely drawn static backdrops showcase typical Russian scenes (Kremlin, outer space etc) during the game. A minor annoyance that cannot be toggled off is the distracting checkerboard patters in the block well. The Tetromino blocks are nicely shaded for a slight 3d effect with smooth animation during block rotation and dropping.
Another disappointment was when I realized the actual playfield & game graphics were designed only for 320 x 320 screens. Tetris 2.0 "supports" HVGA 320 x 480 screens but it only minimizes the DIA area while leaving black borders at the top and bottom of the screen. Perhaps Handmark intends Treo owners as the primary purchasers of Tetris 2.0? At any rate, while I was really hoping the game would utilize the full screen size on my Palm TX a bit better, it's still a huge improvement over Tetris 1.x on Palm OS.
A rousing, techno-fied version of the classic folksy Tetris theme plays throughout the game. It does get tiresome after a few rounds but thankfully it can be muted. Sound effects are sparse but sufficient for the usual Tetris row-clearing hoopla. Digitized crowd cheering awaits players who achieve a particularly high score.
Controls/Misc
Any fast-paced action title's control scheme is going to prove challenging on an average POS device and Tetris is no different. Fortunately the controls are completely remapable. Compared to my "definitive" editions of Tetris (original GameBoy monochrome version and Nintendo's NES version as well as Handmark Tetris 1.2) gameplay on 2.0 seemed a touch faster at comparable levels & number of lines cleared.
I found two glaring differences between all of the previous versions of Tetris I own or have played extensively in the past. The first difference is that is rather minor but still annoying. The blocks can still be rotated prior to locking down despite having selected the classic lockdown method (I think this is an "official" rule change to Tetris in the past few years mandated by the original IP holders)
The second difference is one that is nearly a deal-breaker for the whole package:
To put it simply, the game ends (even in Marathon mode) once the player has reached level 15 and cleared 150 lines. Since my person best score on Tetris on the GameBoy is 804 lines completed, I feel that 150 lines cleared is a very poorly chosen artificial cap to the gameplay. I had to play through the game twice in a row just to believe what I was seeing.
The full version of Tetris 2.0 takes up 905kb of memory. I ran it off of my 2gb Sandisk card with no issues whatsoever aside from sluggish performance when the DBCache gets low on my TX (a quick reset takes care of that). Tetris 2.0 is compatible with all Palms devices, III series and up, other than the Zire and Zire 21.
Conclusion
Assigning a final score to this title was a monumentally difficult choice to make. On one hand is the fact that Tetris is perhaps one of my five favorite game titles of all time. On the other hand, the artificially imposed 150 line cap on the game essentially ruins the classic "Marathon" mode. Yet there's no doubt that a significant amount of hard work went into bringing a long-neglected classic into top shape for the Palm OS. For the moment, I can recommend version 2.0 to casual Tetris fans but owners of 1.x or die-hard aficionados may want to take a pass on this generation of Tetris on POS. The lack of a discounted purchase price for existing Tetris owners makes upgrading to 2.0 an even more dubious proposition for 1.x owners.
Hopefully a version 3.0 will be released sometime down the road and remedy this version's major drawbacks.
Overall rating:

2.5 / 5 stars
Price: $19.99 USD
Tetris v2.0 for Palm OS.
Article Comments
(2 comments)
The following comments are owned by whoever posted them. PalmInfocenter is not responsible for them in any way.
Please Login or register here to add your comments.