Treo Pen Stylus Shootout
by: Kris Keilhack
June 27, 2006
I admit, I'm a huge sucker for always comparing two things: car cupholders and mobile device styli. Anytime I ride in someone's car their vehicles' cupholders are the recipients of my scrutiny. Anytime someone pulls out a DS, a tablet PC, a PDA or a smartphone I'm immediately checking out his or her stylus. My personal all-time favorite is still the spring-loaded "boing boing" stylus found on Palm's T|T and LifeDrive models.
The first thing I did after receiving my new Treo 700p a few weeks ago (well, the 2nd thing I did after applying a screen protector!) was to buy a 3-pack of Palm replacement styli in the new, eye-catching orange Palm packaging. I was surprised to see that Palm saw fit to integrate a ballpoint pen into their store-bought replacement styli. I also ordered a Seidio pen stylus alongside my 2400 mAh extended battery.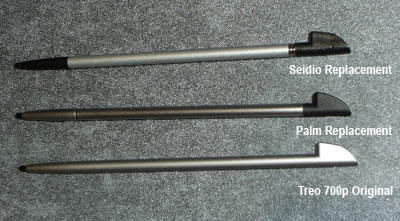 I was worried that the Treo's smaller diameter stylus would bring back nightmares of Clie toothpick styli. Could a ballpoint pen even be crammed in there? Read on for the results.
The Contenders:
Palm Original 700p Stylus
- Single-piece construction. Solid silver. No Pen
Palm Replacement 650/700 styli
- Sold in a retail 3-pack. Integrated ballpoint pen.
Seidio Replacement Treo 650/700 stylus
- Sold online singly or in a three-pack. Integrated ballpoint pen.
(Note: Seidio lists separate styli for the 650 and 700 though they also state the stylus is designed for the 650 and will not fit the 700 perfectly. I assume they are merely doing this for marketing purposes )
Testing & Methodology
I performed my testing in a very scientific manner—I used my Treo through a full week, carrying each stylus for approximately two days each. During the course of each day I made certain to play a few games of Bejeweled 2 & Rooks' Revenge. I also wrote at least a half-page of notes with the ballpoint pen each day.
Palm Original 700p Stylus
This was my favorite of three when used as a dedicated stylus. It's the heaviest and the best "fit" in my Treo due to being a tad thicker than the other styli. I thought this stylus was the sleekest and best-looking, due in no small part to its modern monochromatic color scheme.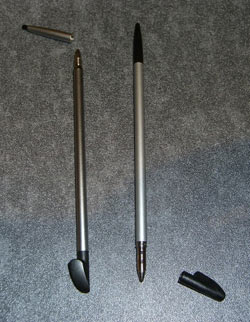 If I had to undergo and extended Graffiti writing session on my Treo, this one would be my first choice. I really missed having a pen in this one after spending time with the other two versions. It's a shame Palm doesn't give you a spare stylus in the Treo's box, especially considering the price they are asking for 700-series Treos!
Palm Replacement Pen Styli
This trio 3-pack wins when based on sheer value alone--$15 for three is a great price and you cannot beat the local availability at places like CompUSA and Palm's kiosks.
However, I felt this was the poorer writer between the two pen styli. I had the distinct impression of the Palm Pen Styli feeling lightweight and rather "cheap". It also seemed a tad shorter than the 700p's original stylus as this one required more of a fingernail tip to remove it from the silo. Having to remove the stylus tip to access the ballpoint tip was also rather aggravating. It also puts the stylus tip at risk of getting lost.
In an odd throwback to an earlier, less enlightened era (i.e. sometime prior Palm including full-size reset buttons in 2005) the "quill" end of the Palm pen stylus unscrews to reveal…nothing! It seems Palm's nasty old habits concerning reset tips die hard…
Still, there's no doubting that having a few spares on hand is a huge attraction. A fresh pack of these will be going in my travel bag ASAP for emergency use.
Seidio Replacement Pen Stylus
I really liked this unit as an overall package. It was the better of the two pen styli by a slight margin. I greatly preferred removing this one's cap to access the pen instead of having to unscrew the stylus tip. I also thought that the ballpoint pen on the Seidio wrote a bit more smoothly.
Like the Palm pen styli, the Seidio variant is still not perfect (Seidio even mentions this on their web site). For starters, It's somewhat recessed into the Treo's silo, though not as badly as the Palm version. This is a distinct with styli originally designed around the 650's FF but marketed as being compatible with the 700 as well. The Seidio also required a fingernail jab to remove it and felt a bit looser when in the silo than either of the other two styli. I did not care for Seidio's $6.95 + shipping price tag for one stylus or their incredibly slow order processing. Seidio charges $12.95 + shipping for a three-pack of styli.
Conclusion
The old adage of getting what you pay for rings true once again if you care about adding a multifunction stylus to your Treo. A narrow first place victory goes to the Seidio Pen Stylus over the Palm 3-pack, especially if you buy three of the styli from Seidio alongside some other accessories to mitigate the shipping charges. The Palm Pen Styli are super-convenient and found nearly anywhere but they're just a bit too flimsy for daily use. Palm's standard stylus is quite a nice one but limited in its functionality. The first time you find yourself in a pinch and needing a real pen for some emergency situation you may want to seriously consider bestowing your Treo with one of the above combo units.
Article Comments
(3 comments)
The following comments are owned by whoever posted them. PalmInfocenter is not responsible for them in any way.
Please Login or register here to add your comments.