Plazmoids! Game Review
by: Kris Keilhack
July 24, 2006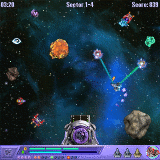 Plot and Game Options
Intorine's single-player only Plazmoids is best descripbed as a cross between the arcade classic Sinistar and the NES sleeper hit Solar Jetman, with a heavy dose of Atari's seminal Asteroids thrown in for good measure.
Plazmoids is definitely a title for physics buffs, as the physical laws of acceleration, momentum, and magnetism are observed and obeyed within the game. Players of this game may find themselves using a bit of body English from time to time during heated gaming sessions with rock fragments and ships careening wildly across the screen.
For those feeling rather proud of their accomplishments, high scores may be uploaded from a Palm device to Palm Desktop for publishing on the web for posterity.
Gameplay
In short, you must pilot a small spaceship to collect Plazmoid fragments and return them to your base while under the threat of low fuel, enemy attacks, and collisions with asteroids and comets. The Plazmoid fragments are towed behind your ship by means of a rather fragile tractor beam. While your ship can tow several fragments at once, abrupt or sudden movements will break the bond and send your rocks tumbling through space.
Upgrades to several key components of your ship's systems are also available throughout the game alongside selectable weaponry. These small touches and the strategic advantages of properly utilizing your home base space station add a tremendous amount of depth and variety to the game.
I found that a 1-2 strategy of eliminating the enemy fighters then busying myself with collecting the Plazmoids was the best strategy. Once you have completed the game's initial stages this strategy becomes harder and harder to maintain as the enemy ships become more of an actual threat than mere annoyance.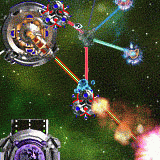 While several control schemes are supported (see below) I found that the best results came from using a combination of hard buttons and touchscreen taps. Of course, this will vary from user to user. .
Graphics & Sound
Plazmoids is near-perfection in the audio-visual department. The game plays a rollicking techno score throughout the game, alternating between fast paced house-type music and more of a trance style theme. Sound effects are functional without being distracting.
Eye-popping, colorful graphics abound and are not hard on the eyes even within the limited real estate of a Treo screen. Animation is fluid and there is never any flickering or slowdown during later stages when a flurry of sprites is thrown about onscreen. Shading is used to great effect to give both organic and mechanical objects in the game a true sense of depth and realism. HVGA mode is fully supported on capable Palm devices. Do note that Palm OS (non-Zodiac optimized) action titles that support the full 320 x 480 or 480 x 320 resolution are extremely rare and greatly appreciated by this reviewer! I have played in this mode extensively on my TX and noticed no image corruption or slowdown. Other developers take note!
Control & Misc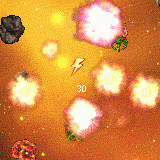 Intorine have made the wise decision of supporting as many Palm OS control schemes as possible. Full touchscreen, hard button, or Zodiac analog stick control metods are selectable and customizable from the game's main menu.
Two .prc and three .pdb files comprise the full version of the game, occupying 454k of space. All of the files can be installed to an SD card and launched with no issues other than a bit of sluggishness while the game's files are unpacked. I experienced no issues whatsoever other than when I accidentally hit my Treo 700P's phone button mid-game. The Treo ended up in an endless reset loop and I had to hard reset. I used the latest 1.63 build of the game for testing on both my Palm TX & 700p.
Conclusion
One of the best games available in any genre for the Palm OS, Plazmoids is truly a shooter with depth and a strategic slant to its action. Plazmoids could definitely make a case for needing a port to a full-fledged games console or portable machine. I'd highly recommend this title to anyone looking for a "shooter", though I hesitate to pigeonhole this fine game into such a confining niche. Even though it was technically released in 2005, congratulations to Intorine for crafting a fine contender for Palm OS game of the year!
My overall rating:    

4.5 / 5
Price: $14.95 USD
Article Comments
(2 comments)
The following comments are owned by whoever posted them. PalmInfocenter is not responsible for them in any way.
Please Login or register here to add your comments.