Blue Diamond Game Review
by: Kris Keilhack
November 14, 2006
Plot & Game Options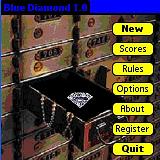 In Blue Diamond, the player assumes the role of a thief who has been caught in the act by the bank's director. The director, being a rather sporting type, challenges the player to a high-stakes game of chance. Facing certain arrest by the police as the only available alternative, the thief agrees to match with the director in a contest to win the legendary "Blue Diamond", valued at one million dollars.
Twenty-six safety deposit boxes are presented on the gameplay screen. One box contains the million-dollar "Blue Diamond" and the other drawers contain cash reserves ranging from one penny to $750,000. After the player's initial box selection(s), the bank director's offers will hinge upon the probability of him buying back the box containing either the diamond or a very large sum of cash.
No two games of Blue Diamond are alike due to random box content shuffling at the start of each round! Each game round is designed for swift play, so the player can choose have a quick gaming break or an extended play session. I was able to bang through a game in about two minutes or I was able to take my time and think each box choice through carefully. Few Palm titles offer the player such a thorough challenge in just a few minutes of play; Rook's Revenge is one of the few other titles I can enjoyably play on a 5-minute work break.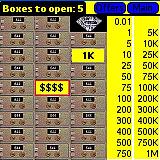 One of my chief criticisms of Mohamed's previous title, Lunar Lander Simulator, was its lack of an in-game tutorial or a dedicated help/instructional mode. Thankfully, Blue Diamond's main splash screen has a helpful "Rules" button. The title is currently single-player but multiplayer support has been promised in a future version update.
Graphics and Sound
I was a bit let down by the color scheme of this game. The yellow button background combines with the black on blue text boxes to create what might be unpleasant eyestrain for some gamers. One very nifty touch was seeing a digitized Treo appear to present the Director's monetary offerings to the player. Modamed does need to update this Treo to a newer "Palm" version instead of the old "PalmOne" logo the game currently uses ;-)
Blue Diamond 1.0 features digitized full-color 320x320 and 160x160 graphics and 320x480 support is promised for the future.
This title features even fewer sound effects than LLS. The game is essentially silent aside from a neat sci-fi sounding "calculating" noise when the Director is calculating his offer to the player and a nifty siren effect when the police are summoned. The bank vault drawers also open with an effective "whoosh" effect.
Controls & Misc
Blue Diamond can be played entirely touchscreen-driven or entirely by the 5-way navigator. Either way is an effective control method. I tested this game in beta and 1.0 release versions on my Palm TX and 700P and noticed no issues whatsoever. It runs perfectly from an expansion card and occupies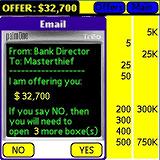 SimToGo guarantees free lifetime updates for this title. In the works for future versions of the title are the aforementioned multiplayer support and native 320x480 graphics. Additionally, a Zodiac-enhanced version of the executable is in the works.
Conclusion
Blue Diamond is an enjoyable game with lasting appeal and addictiveness. The bland graphics and sound belie the game's depth and replayability. Blue Diamond is well worth purchasing if you are a fan of game shows like the Price is Right or Deal Or No Deal.
Rating


4 / 5 stars
Blue Diamond is available now for all OS 5.0 and newer Palm devices for $9.95 USD.
Article Comments
(3 comments)
The following comments are owned by whoever posted them. PalmInfocenter is not responsible for them in any way.
Please Login or register here to add your comments.