My Little Tank Review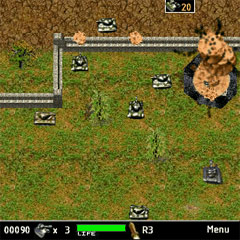 By Kris Keilhack
November 29, 2006
Reminiscent of old top-down arcade shooters like Ikari Warriors, Commando, or Mercs, My Little Tank is an amusing blast 'em up for Palm OS devices developed by Binoteq and published by Astraware.
Gameplay and Techical Overview
The game is comprised of sixty single-player only levels of action. In addition to destroying tanks patrols, the player must defend homebase and perform search and destroyer missions on enemy installations. The player's tank must deal with a series of varied environmental conditions and terrains including bridges, snow, swamps, bombed-out towns and deserts. Weapon powerups and tank upgrades increase the player's offensive capabilities while enemy tanks grow increasingly stronger, smarter and more plentiful as the game progresses.
I tested version 1.05 on my Palm TX and Treo 700p. I encountered no stability issues whatsoever during testing. The program has no troubles with the remapped button layout on either of my devices. My Little Tank occupies 1.6mb and runs perfectly from an external expansion card. It requires at least a 320x320 Palm OS 5.0 device.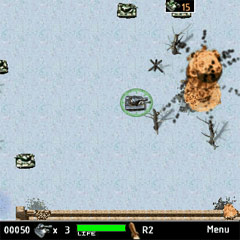 Pros:
Superb graphics with a "gritty cartoon" style, along with excellent animation, effects, and terrain detail.
Full support for digitized sound, 320*480 screen resolution and 5-way navigator
Intuitive, simple controls
Ability to resume games is a nice bonus and makes completing the 60 levels a realistic possibility.
Cons:
Despite the presence of powerups and more powerful/skilled enemies, gameplay becomes repetitive after a few dozen stages.
Limited replayability once the player has grown tired of the game and/or blasted through all 60 levels.
Gameplay would benefit from greater depth (infantry, artillery, mines, air support) or a Blueooth or Wi-Fi multiplayer mode.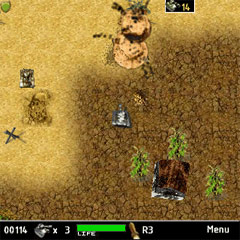 My Little Tank excels at one thing—fun-filled action. It's a rather atypical Astraware title due to the limited focus on shootin' and blastin' but still maintains the typical Astraware attributes of appealing to casual gamers and hardcore arcade veterans alike. Definitely worth a look if you're a fan of Astraware's more subdued titles or if you're an action aficionado looking for a slower-paced shooter.
My overall rating:

3.5 / 5
My Little Tank is available now for Palm OS and Windows Mobile handhelds, with a regular price of $19.95. A demo version is available.
Article Comments
(1 comment)
The following comments are owned by whoever posted them. PalmInfocenter is not responsible for them in any way.
Please Login or register here to add your comments.