New Treo CAC Solution Demonstrated
Tuesday, February 13, 2007 9:51:09 AM
Palm today unveiled a new Bluetooth Common Access Card solution for WinMob Treos at Microsoft's Army Symposium. While not significant to the majority of users, CACs are now standard-issue for military personnel. CACs are "smartcards" that contain both the owner's ID and authentication information that is used for signing emails and gaining access to secure websites.
The new solution, developed by Biometric Associates, Inc, is actually quite innovative. One of the biggest complaints about the CAC system is that as more government sites require authentication, personnel deployed in the field or on temporary duty are shut out when they don't have access to a CAC workstation - which is more often than not. BAi's reader pins to the front of your shirt like any regular ID badge. After you've connected it (using a supplied mini-USB cable) to exchange the Bluetooth pairing key, your Treo becomes a CAC terminal, allowing you access to secure information on-the-go.
With over 3 million CAC smartcards issued by the DoD alone, it's clear why Palm would want to trumpet this new capability. Palm's manager of government sales, John Inkley, said in the news release:
"Whether it's the military, homeland security, or state and local law enforcement, Palm works with the industry leaders to provide government agencies with secure wireless email and sophisticated turnkey solutions. We can now provide a more powerful smartphone with device data protection and secure email capabilities that are the best available in the market today."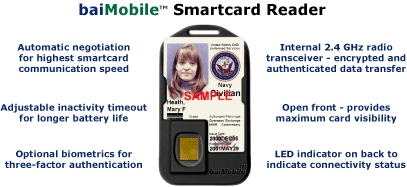 Article Comments
(2 comments)
The following comments are owned by whoever posted them. PalmInfocenter is not responsible for them in any way.
Please Login or register here to add your comments.