Saguaro Sneak Peek Review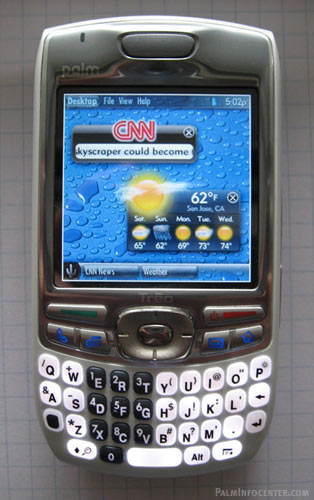 By: Ryan Kairer
April 20, 2007
Saguaro is a interesting new Palm OS operating environment. It ambitiously promises to bring multitasking applications, windowed applications and web based widgets to Palm OS devices. The company behind Saguaro, PDA Performance, has just released a "sneak peak" beta version which you can now try out on your own device.
The Saguaro sneak peak comes as a 3.2MB single prc file. The company says the app will support any device with Palm OS v5.0 or higher, a 320x320+ display and at least a 100 MHz StrongARM/XScale ARM processor (300+ MHz recommended). It also requires at least 2MB dynamic heap memory and at 4MB of available storage memory to run. The program ran fluidly on both my Treo 680 and Tungsten T5. It can also be launched and run from a SD card.
The app takes about 25 seconds to load, more if you launch from an SD card. The main view shows an application bar along the bottom that lists the open applications. In the bottom left is a small cactus icon, which looks like could house a future launch menu of some kind, but at the moment is currently non-functional. A menu bar runs along the top of the screen that shows the currently selected application, and a clock and battery meter in the right corner.
The beta (pictured running on a Treo 680 at right) includes two widget applications. A CNN news headline ticker and a weather widget very similar to the Apple Dashboard widget. Both pull down live data from the device's Internet connection. There are only a few small options in the drop down menus that allow you to customize the widgets options or view the program about screen. The weather widget allows you to enter your location, while you can select a few different categories for the news ticker. Both widgets can be dragged around and rearranged with a tap of the stylus.
While limited to only two small demo widget's, PDA Performance says there are many more add-on widgets currently under development.
Overall the interface is very modern an attractive. The developers have really done a good job to bring a pleasant mobile interface full of eye candy with an artistic translucent look. The widgets themselves look like something right out of OS X and become slightly transparent when dragged around.
Given the limited usefulness at the moment, the Saguaro preview shows a lot a promise. If the final version is released as an open platform for developers, this could make for an exciting base to build upon.
The Saguaro sneak peak can be downloaded here until April 27th. The company is seeking feedback and suggestions, while they prepare an official full release. You can see more of Saguaro in action in this video.
Article Comments
(21 comments)
The following comments are owned by whoever posted them. PalmInfocenter is not responsible for them in any way.
Please Login or register here to add your comments.