Handango Releases Its Mobile Software Report
Monday, April 30, 2007 1:16:19 PM
Handango today released the 2007 First Quarter edition of the Handango Yardstick, a quarterly report on the state of the mobile content industry. Handango's report looks at device and mobile software popularity based on sales at its online properties. This most recent version of the Yardstick indicated that three smartphones launched within the past year were among the top ten devices adding software based on revenue. The Motorola Q topped the list, overtaking the Palm Treo 650 which had been in the top spot for more than a year, with the BlackBerry Pearl following close behind. The Palm Treo 680, also a newly-released device, ranked at number ten.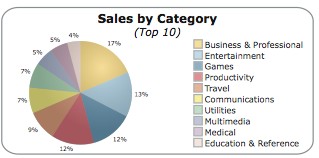 In addition to new devices, several upgraded models overtook their counterparts this quarter in regards to software downloaded. The Cingular 8525 outranked the Cingular 8125, and the BlackBerry 8703e surpassed the 8700c. In contrast, smartphones that have consistently remained among the top five devices adding software over the past year include the Palm Treo 650, Palm TX and Dell Axim X51v.
Top 10 devices Adding software based on units sold
Motorola Q
BlackBerry Pearl
Cingular 8525
Dell Axim X51v
Cingular 8125
BlackBerry 8703e
Also reported in the Handango Yardstick were top search phrases. While terms such as "free", "games" and "ringtones" remained the most popular, "Google" came in at its highest ranking ever at number five due to the rise in popularity of the Google Maps for mobile application. However, "sudoku" and "maps" did not make the top ten search word list this quarter after appearing there in the 2006 Year End Yardstick.
Content titles that have retained popularity since Q1 2006 are PocketMirror for Palm OS, Microsoft Voice Command for Pocket PC, SBSH Fašade for Windows Mobile Smartphone, Ringphonic for BlackBerry and ProfiMail for Symbian. Travel, PIM and weather-related applications remained strong sellers also.
Best-selling software titles by operating system
Palm OS
1. PocketMirror Standard
2. Diet & Exercise Assistant
3. Ringo Pro
4. Agendus Professional Edition
5. Diet & Exercise Assistant Desktop
6. SplashID
7. Traffic for Treo
8. WorldMate Professional Edition
9. PocketMirror Professional
10. KeySuite
Windows Mobile Pocket PC
1. MobiTV
2. Spb Mobile Shell
3. Spb Pocket Plus
4. Microsoft Voice Command
5. Pocket Informant
6. Spb Diary
7. Spb Time
8. Spb Backup
9. Spb Brain Evolution
10. eWallet Professional Edition
A full version of the Handango Yardstick for Q1 2007 is available here. (PDF link)
Leave a comment...

Click on the
Start New Comment button
below to begin a discussion.
You must be
registered
and
logged in
to add comments.