PhoneFavs - New Mobile Web Portal Debuts
Tuesday, December 4, 2007 7:00:02 AM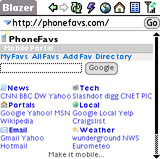 PhoneFavs is a new mobile web portal designed for smartphones and mobile devices. PhoneFavs is the first social bookmarking system completely designed and optimized for mobile phone users. The free service enables users to keep an always-available list of bookmarks for web sites that can be easily viewed on a mobile browser.
With PhoneFavs, users can store, organize and share bookmarks and access them on any device, anywhere. PhoneFavs' deceptively simple homepage serves as a gateway to PhoneFav's three main services: online bookmarks or Favs, a handpicked mobile link directory, and a "mobilizer" which automatically adapts standard web pages for improved viewing on smaller screen devices.
"PhoneFavs is a portable tool-chest for enriching your browsing experience on a mobile device," said Ryan Kairer, principle architect of the new mobile web service. "With PhoneFavs at your disposal, you can save cool sites and longer articles to read on your phone in a mobile friendly format at your leisure. It also serves as a gateway to discover new sites and services designed especially for the mobile web."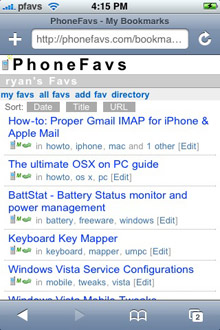 PhoneFavs is accessible on the web at http://phonefavs.com or via a shortcut url pfavs.com. It is compatible with any device with a web browser -- smartphones, feature-phones, iPhone's, BlackBerries, PDA's, tablets and portable computers -- but has been specifically designed with Treo smartphone users in mind.
PhoneFavs.prc
Palm OS users can download a small 10k PhoneFavs prc file that works as a launcher shortcut to PhoneFavs right from your standard Palm OS applications list. (Much thanks to Rob of Hobbyist Software for his assistance in creating the application.) Blazer users are recommended to utilize the smaller font setting (menu > options > font > font size: small) for the best browsing experience.
Article Comments
(1 comment)
The following comments are owned by whoever posted them. PalmInfocenter is not responsible for them in any way.
Please Login or register here to add your comments.