Review: Launcher Plus
By: Davy Fields
October 5, 2002
Launcher PLUS is yet another launcher that's been brought into the fold for Palm OS Machines. Fortunately, it's a pretty decent launcher. It's not loaded with features, but it does everything quickly, and easily, and overall, is a very nice launcher.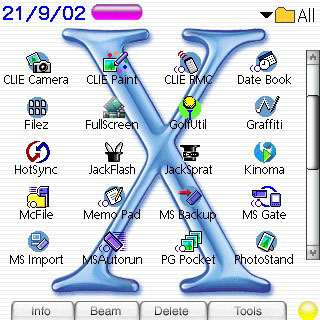 Just to cover the basics right away, this launcher supports High-Resolution Palms (Not 320x480, for now, at least), has VFS features, and allows you to apply custom skins that change the background, toolbar, and some other myriad things. The skins I tested out were the Mac OS X and the Windows XP skin. Both looked fantastic. Unless you're a YiShow user, (and if you are, you'll know this), you'll find thatputting backgrounds behind your icons is great. The icons appear very clearly over the full color images in the background, with the transparencies working great. There's an occasional app that purposely puts white space around its icon, but the vast majority of apps have very nice looking transparencies. Going along the same line, the toolbars icons, while being a bit small, also work very well, as does the battery icon. The whole package looks very crisp and nice.
Speaking of the toolbar, it does the standard stuff, you can view information on an application, beam it, or delete it. The "tools" option pops up a dialog where you can view device information, quickly change between skins (with nice looking previews), categorize apps (a process done very quickly and easily), as well as "Show/Hide Palmtop"… this is slightly weird, because all it does is hide the icons so you can look at the background. It's actually a nice screensaver, but it is a funny little feature.
You can have up to 255 categories (not just 16, like the internal launcher), and each category can have it's own icon you can take from a bank of icons, which is a nice little feature. The program supports three views: standard icons, a large list view, and a small list view. The small list view packs a ridiculous amount of icons onto one screen on a high-resolution device, but it you want it, you got it.
For the VFS Features. You can delete stuff from the card, and in one of the most amazing features I found… you can beam applications straight off the card. I'm not sure if this is an advertised feature, but it allows you to not bother with copying apps to internal memory, and makes beaming a heck of a lot easier than in Silverscreen. Also, instead of Silverscreen, the VFS features simply work, there's never anything weird like apps leaving themselves in memory. Simply put, this launcher just works.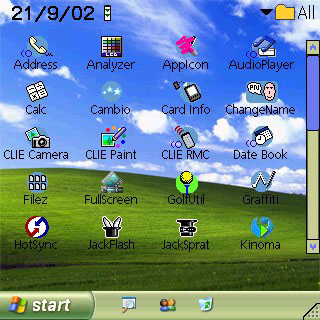 Speaking of little features, this is Launcher Plus' one shortcoming, which is a lack of features. It's a little unfair to compare it to established products like Silverscreen, but because it retails for around the same price, one has too. There aren't tons of different options, changing the font, scroll bar, or other stuff. I couldn't find a way to get a program onto the memory stick using the Launcher, or moving a program back.
But, in looking at QuickTap's website, every one of the features that wasn't there that I wanted was promised as coming soon:
"Skin composer - Create your own unique skin easily. Multimedia expansion slot utilities. Easily transfer programs between external storage and Palm device memory. Support for Sony HighRes+ (Full screen 320x480 resolution)."
Which covers the list of the things that I thought it was missing. This will hardly be the limit from the developer, they've been very proactive with updates, so I'd expect more goodies to pop up.
Overall, this is a very nice, easy to use, good-looking launcher. If you find Silverscreen slow and gaudy, and YiShow too complicated, this could be the launcher for you. Clean, cool, fast, and easy, Quicktap Software has created a great new launcher.
Company:
Quicktap
Price:
$19.95 (Intro offer, reg $29.95)
Design:
(4)
Cost/Benefit:
(3.5)
Coolness:
(4.5)
Overall:
(4)
Maximum rating is five (5) infopalms.

PROS:

Nice Looking, Clean Backgrounds
Skins offer some cool customization
VFS Access Works Great

CONS:
Update: Quicktap has has to remove some of the skins mentioned in this review, in order to avoid "copyright infringement."
Article Comments
(70 comments)
The following comments are owned by whoever posted them. PalmInfocenter is not responsible for them in any way.
Please Login or register here to add your comments.

Comments Closed
This article is no longer accepting new comments.

Only the first 50 comments are displayed within the article.
Click here for the full story discussion page...