Researchers Take the Tungsten T to Mt. Everest
Friday, June 6, 2003 10:43:38 AM
Fifty years after Sir Edmund Hillary reached the summit of Mount Everest, climbers are achieving more that just getting to the top: they're conducting scientific research under the extreme conditions of the highest point on Earth and are taking their handhelds along.
Since Hillary's legendary climb, more than 10,000 men and women have attempted to reached the summit, but none have conducted a study like what Brown University's Professor Philip Lieberman and his team of researchers completed last week using Palm Tungsten T handhelds to test the thinking abilities of climbers.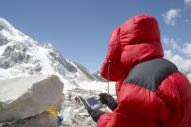 In his third consecutive year of his one-of-a-kind study, Lieberman, a professor of cognitive and linguistic sciences, and four research assistants studied the effect of the lack of oxygen -- a condition called hypoxia -- on Everest climbers' abilities to think clearly and understand the meaning of a sentence. Funded by the National Space Biomedical Research Institute (NSBRI), through NASA, the research has developed a method that can detect impaired decision-making ability by means of computer-implemented analysis of a person's speech. This will allow remote monitoring of crew members' performance in deep-space missions where exposure to cosmic rays could cause brain dysfunction similar to that resulting from hypoxia. The Everest research points to voice-monitoring techniques that could be used to alert people to life-threatening breakdowns in decision-making in other critical situations. The present technique developed by Lieberman and his colleagues already has proven useful in evaluating new methods for the treatment of Parkinson's Disease, in which similar, more extreme and permanent brain damage occurs.
This year's study reflects close cooperation between research groups at Brown and Harvard Universities through NSBRI projects. Harvard University Professor of Psychology Stephen Kosslyn and his research group developed and programmed the "Mini-Cog" cognitive test battery on the Palm handhelds in their NSBRI funded project. At Everest, voice samples were recorded on the Palm Tungsten T handhelds and transmitted with two additional tests performed using VHF radios to Lieberman's research team at Everest Base Camp. The Palm handhelds allowed climber-subjects to self-administer a comprehensive series of tests that assessed their decision-making abilities under extreme situations.
"This is the first year we have used the Palm Tungsten T handhelds, and because of them, we were able to greatly expand our research by capturing more data," said Lieberman. "In past years, we relied solely on speech samples from VHF radios. We needed an unobtrusive, lightweight tool that the climbers could use to record voice memos and run the cognitive testing software. Palm's Tungsten T handheld was the perfect tool for both."
The results of the three-year study are expected to be published in the fall of this year.
Check out Conklin SystemsPalm Pages for some other interesting unique handheld adventure stories.
Article Comments
(14 comments)
The following comments are owned by whoever posted them. PalmInfocenter is not responsible for them in any way.
Please Login or register here to add your comments.

Comments Closed
This article is no longer accepting new comments.