Retail Roundup - HP TouchPad Clearance Sale Edition
Wednesday, August 24, 2011 2:35:25 PM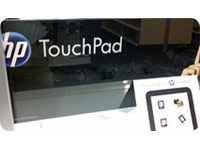 Hoping to score at least discounted HP TouchPad at retail, I got an early start on Saturday morning and made a number of visits this weekend to several stores that had been staunch supporters of HP's short-lived TouchPad retail effort.
Read on to see what I found in the way of Touchpad and accessory deals.
Wal-Mart
Three local Super Wal-Mart stores were wiped out of TouchPad stock early Saturday morning. Two stores had removed all TouchPad-related accessories were removed from their shelves but the third store still had the HP AC adapter kit in stock at its original MSRP as well as some generic screen protectors at regular price. A helpful but clueless electronics department employee told me that they had people coming in all morning begging for TouchPads after quickly selling the handful of units they had in inventory.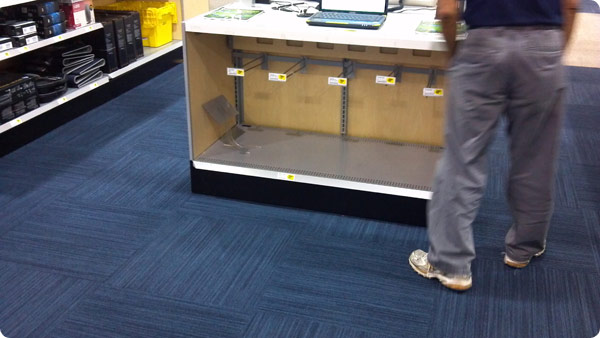 Sunday afternoon at Best Buy. TouchPads replaced by Toshiba Notebooks.
Best Buy
On Saturday afternoon I visited two local Best Buy locations. Both stores had removed their TouchPads and all HP-branded accessories from the HP stand-alone display in the PC department but two Veer display models remained at one store. By mid-afternoon Sunday, everything related to WebOS had disappeared (including the Veer) from those stores and a large sign was posted on the door stating that they were sold out of all TouchPads and would not be receiving any more. One employee told me on Saturday that all stock was being "sent back" though reports online indicated that Best Buy did cave and liquidate some inventory at the reduced prices.
As far as a non-HP accessories for TouchPads, I saw plenty of Zagg screen protectors for the TouchPad at all three Best Buy locations but that was pretty much the extent of it.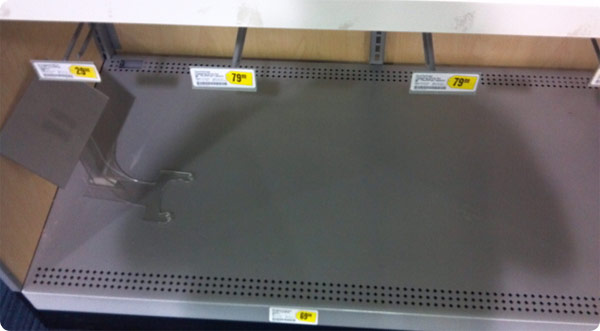 Saturday Afternoon at one Best Buy
Office Depot
The local Office Depot had posted a bright yellow "out of stock" sign on the front doors by noon on Saturday. A return trip on Sunday revealed nothing new. Inside, all TouchPad display models had been removed and replaced by redundant Android-based tablets. Only a single HP TouchStone dock remained as a reminder of the TouchPad's brief retail existence. My suspicion is that the surprisingly tablet-savvy employee grinning wildly at me nabbed the majority of the TouchPads at this store well in advance.
Sam's Club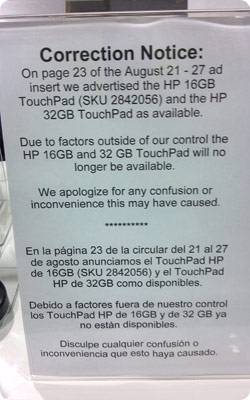 I wasn't able to hit Sam's Club on Saturday but by midday Sunday, the nearby Sam's had removed all traces of the HP Touchpad from its previous end cap display. Online reports from some lucky customers indicate that Sam's did blow out their TouchPad stock for the reduced prices just like corporate sister Wal-Mart.
Costco
Costco's rapid turnover and downsizing of their tablet section continues and by all accounts they did not participate in the TouchPad closeout pricing madness. On Saturday afternoon, the local Costco still had the 32GB TouchPad + case bundle on sale for a staggering $579. By midday Sunday, this had been replaced entirely by an expanded Vizio tablet display.
Costco may feel that the non-Apple tablet fad has already run its course. A few months ago, Costco was heavily pushing Motorola's wi-fi and 3G Xoom tablets, only to supplant it with the slightly more affordable Acer Iconia A500 in June, which was in turn replaced in July by HP's TouchPad. A low-cost 8" Vizio Android tablet appeared several weeks and with the departure of the HP and Acer offerings, is now Costco's sole tablet offering (at least at my local stores).
Like many other frustrated deal hunters, I spent a lot of time and gas racing around town this past weekend looking for a nonexistent TouchPad bargain. I think it's definitely safe to say that bargain hunters only stood a slight chance of nabbing a TouchPad this past weekend, so any hope at all for a deal in the future will likely be online as HP restocks their online store with the last of their unsold inventory. Greedy resellers are all over E-Bay and Craigslist with TouchPads going for roughly double the clearance pricing, so the deal potential there is practically nil.
Article Comments
(28 comments)
The following comments are owned by whoever posted them. PalmInfocenter is not responsible for them in any way.
Please Login or register here to add your comments.