MPCpro Offers Hands-Free Access While Driving
Tuesday, July 10, 2001 10:04:07 AM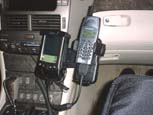 The MPCpro (Mobile Productivity Center Pro) is now available. This mobile docking station allows drivers to access their Palm while keeping their eyes on the road and their hands on the wheel. It houses both a Palm V/Vx and an Ericsson R280/1228 mobile phone. The MPCpro's speech recognition and text-to-speech system allows users to interact with their Palm using voice commands. Users can also use the onboard text-to-speech system to have stored data read to them. The system is $350, which doesn't include the Palm or the phone.
Delphi's MPCpro is one of the first mobile systems on the market to use a continuous voice recognition engine that recognizes a series of alphanumeric digits as opposed to single digits. Special electronics inside the cradle allow users to access the information in the handheld via voice recognition and text-to-speech. Through its text-to-speech capabilities, the MPCpro can read information from the Palm's To Do list, Memo Pad and Date Book.
The MPC can also retrieve telephone numbers from the Palm's address book and dial them automatically by voice commands. No voice training is required. It will understand a variety of words for each Palm application. For example, it knows that "Calendar" and "Date Book" are synonymous and will open the Date Book.
The MPCpro loads text from the Palm V/Vx and uses advanced voice synthesis software to read it aloud. Every time the Palm V/Vx gets placed in the MPCpro cradle, it looks for new or changed data.
Audio can be heard with headphones or it can broadcast a weak FM signal to the car's radio, allowing it to use the car's speaker system.
The MPCpro plugs into the vehicle's auxiliary power outlet, like the cigarette lighter port. While it will charge the phone, it does not charge the Palm.
The unit features one-button activation with all other functions performed hands-free. As a safety precaution, the Palm display is inactive while driving.
Delphi has no plans at this point to release versions for any other phone or handheld models.
Related Articles:
Article Comments
(18 comments)
The following comments are owned by whoever posted them. PalmInfocenter is not responsible for them in any way.
Please Login or register here to add your comments.

Comments Closed
This article is no longer accepting new comments.