Always On Wireless Modem for V Series Debuts (Updated)
Wednesday, October 17, 2001 11:09:17 AM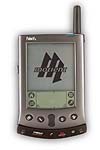 Motient Corporation, the owner of the country's largest two-way wireless data network, today unveiled the MobileModem, which gives Palm V series handhelds always-on wireless email access. It is scheduled to be available later this Fall. Motient now says this modem will cost $180 after a rebate, which is less than half its previously reported cost.
Update: According to a company spokesperson, the service will be available near the end of November for $50 a month. In addition to email, it will also allow access to the Web.
A spokesperson for the company said:
While we certainly do plan to offer wireless modems in the future for other handhelds, including Handspring's line and the newer Palms, I can't say exactly when. We are currently conducting research and considering the possibilities. With over 5 million of the Palm V series sold in the US, we felt that market was the most suitable to target as we enter into the Palm community.
The modem is a clip-on sled that is 5.0" (6.4" with antenna) by 3.1" by 0.47" and weighs 4.8 ounces. It has its own built-in battery. A single cable allows HotSyncing and charging both Palm and the modem.
The MobileModem can wake-up the handheld when a new message arrives. It has built-in vibrating alerts with multiple notification options.
The Motient Modem operates on 800 MHz DataTAC, RD/LAP 19.2 kbps, and MDC 4.8 kbps networks. Motient claims to have the most complete wireless network coverage in the United States, including the 500 largest cities and all 50 states, Puerto Rico, and the U.S. Virgin Islands.
Related Information:
Article Comments
(19 comments)
The following comments are owned by whoever posted them. PalmInfocenter is not responsible for them in any way.
Please Login or register here to add your comments.

Comments Closed
This article is no longer accepting new comments.