WordSmith 2.1.1 Mini-review
By Ed Hardy
12/13/2001

Introduction
WordSmith 2.1.1 is the latest version of Blue Nomad's word processor. The new version makes some small user interface changes but the most import improvements are VFS support, the new spell checker, and a thesaurus.

I'm not going to do a full review of Wordsmith. I did one when 2.0 came out and I don't see a lot of point in going over it all again. I'm going to concentrate on the new features and if you aren't familiar with WordSmith at all, read the old one first.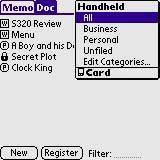 VFS Support
Since expansion memory cards began to enter the mainstream earlier this year, almost everyone has been demanding that their favorite application support them. This is the first version of WordSmith with VFS support and I have to say they did a darn good job.
You access the card through the category dropdown box in the upper part of the screen. This has been divided into two groups, one called Handheld and the other the name of your memory card. Within these two groups you can have categories. If you are upgrading, all your old categories will still be there under the Handheld group. When you are looking at a category that's on a memory card, there is a small icon next to the category name to remind you.
Best of all, a file that is on a memory card can be opened and edited straight from the card. As I understand it, this works pretty much like computers do the same job; the file is copied to RAM, edited there, then saved back when you are done with it. This process goes fairly quickly for small documents but if we're talking about a big eBook, it can be very slow..
This is just further evidence that the days when you can walk around with the RAM on your handheld totally stuffed with apps and files are coming to an end. Use your memory card like it is meant to be used: store everything on it that you don't use every day. Admittedly, this isn't as easy as it should be. All too many apps, like WordSmith itself, can't be run from a memory card. Hopefully this will change in the future.
One thing to be careful about is that files saved on expansion cards are not backed up during a HotSync. If the great American novel you are writing is saved only on your MMC card and you lose the card, it is gone. You might consider investing in a hardware card reader and there are a few software solutions out there, too.
If you aren't quite clear what VFS is, it's the method that files are organized on SD, MMC, and Memory Sticks. If you don't have a handheld with a VFS slot, you can save some RAM by installing a version that lacks VFS support. This will save you about 50 K.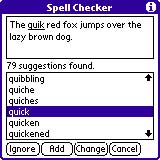 Spell Checker
Even more than VFS support, a spell checker was the function that I was most excited about when I read about this new version of WordSmith. I write a lot on my Palm and I was hoping to be able to spell check my work right there on the handheld. I can sum up the new spell checker with this phrase: it's better than nothing.
There are a lot of tradeoffs to be made. The dictionaries can't be run from an expansion card without an additional app like MSMount. That means they take up a lot of internal memory. The small dictionary is 420K and the large one over a Meg.
As discussed before this was released, the spell checker is a bit slow, especially when the large dictionary is being used. The small dictionary performs a check faster, which makes sense. Still, even with the small dictionary it isn't speedy.
I ran a test trying to give you some idea of how quickly a spell check actually takes. I was able to check a 100-word document from which I had removed all the words it thought were misspelled in about 22 seconds. This is acceptable but coming up with a list of suggested correct words for each incorrect one can take 20 seconds or more. Fortunately, you can interrupt this process if you know the word is correct.
Another handy feature that can help speed up the spell checking is you are given the option of checking just the word the cursor is currently in, that paragraph, all the modified paragraphs in a document, from the cursor to the end of the document, or the whole thing from the beginning. If you highlight some text and launch the spell checker, just that text will be checked.
I'm not trying to beat up the developers on the speed issue. I understand from talking to my contact at Blue Nomad that this function is mostly limited by the speed of the processor. There isn't much they can do to make it any faster until Palm OS handhelds start appearing next year with the much faster ARM-based chips.
I wish I could give you some good guidance on whether to use the large or small dictionary. I'm using the small one but every document I check with it finds a few words that I think are common but it lacks. On the other hand, if you need to be able to spell "thiabendazoles", the large dictionary may be the way to go for you, if you are willing to put up with the drawbacks.
For all the large version's obscure entries, both large and small have a curious omission: neither one has any idea what to do with contractions. For example, the words "I've", "can't", and any word with an apostrophe s always get flagged as misspelled.
WordSmith can edit documents and memos and I wanted it to be clear that the spell checker and the thesaurus work on both.
If you don't want or need the spell checker, you can leave it out, which will save you a huge chunk of space from the dictionaries.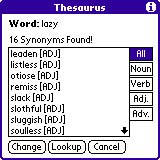 Thesaurus
In stark contrast, the thesaurus is amazingly quick. I can drop in a word and have 35 synonyms in less than five seconds. These can be broken up into their parts of speech and pushing a button automatically replaces the word you were originally looking up with your new choice.
There is only one thesaurus dictionary and it is 288 K. It also can't be used from a memory card and has to be in RAM. If you don't want to use this, you can leave it off completely. Are you sensing a trend about this?
As a kind of side note, don't misuse the thesaurus. My sister is a teacher and she has gotten some pretty funny reports written by kids who tried to sound really intelligent by using a thesaurus to find impressive-sounding synonyms for all the words they could. Trouble was, they didn't know what the new words meant and the results were the English equivalent of a twenty-car pileup. Everything a thesaurus suggests isn't an exact synonym.
FineType Manager
WordSmith now comes with an application that lets you manage your FineType fonts on the handheld. One window shows you your FineType fonts and an example of what the font looks like.
Another window lists the regular fonts in RAM, what they look like, and gives you the option to convert them to FineType right there on the handheld. I have some fonts on the handheld I'm testing WordSmith on because I also run Font Hack 123. All these fonts showed up and I was able to convert one of them to a FineType font as a test.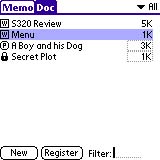 And the Gang
What would a version change be with a bunch of small improvements scattered around? I'll try to get the most important of these but this isn't a complete list.
WordSmith 2.1.1 tries to make it easier for you to tell what format documents are. In the screen where docs get listed, each has a small icon next to it. Ones in standard Palm DOC format have a P, there is a W next to WordSmith rich text documents, and a padlock for protected documents. Uncompressed documents have a dotted line around their size.
In many ways, WordSmith acts more like a PC app than a Palm one. This isn't always a good thing. For example, if you have a document open for editing and you suddenly have to reset your handheld, your changes are gone. The new version has an auto-save feature that can save your work at a specified time.
For you Macintosh users, the Mac OS WordSmith desktop application has been carbonized and now will run natively under OS X. Of course, Blue Nomad is a bit ahead of Palm in this, as Palm hasn't released an OS X version of the Palm Desktop app. Kudos to Blue Nomad for offering the best Mac support of any Palm word processor
Conclusion
These are welcome improvements to WordSmith, especially for those who use their handheld as a laptop replacement. However, both the spell checker and thesaurus take up lots of RAM as does the WordSmith app itself. If you have the RAM to spare, your handheld word processor can almost stand toe to toe with your PC word processor. The best part of about it is it's a free upgrade for anyone who has ever registered WordSmith.
Article Comments
(47 comments)
The following comments are owned by whoever posted them. PalmInfocenter is not responsible for them in any way.
Please Login or register here to add your comments.

Comments Closed
This article is no longer accepting new comments.