Sony PEG-T615C Preliminary Review
By Ed Hardy
1/20/2002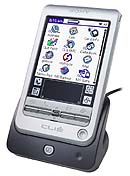 Introduction
The PEG-T615C, to give its full name, is Sony's new high-end color handheld. It has all the hallmarks of a good Sony device, including a hi-res color screen, a Jog Dial, a Memory Stick slot, and 16 MB of RAM.

I've only had the T615C since the middle of the day on Saturday so I haven't had a chance to fully test it out. This is mostly my first impressions, with a longer review to come later this week. I have to do it quickly because Sony wants their handheld back by the weekend.

Hi-Res Screen
I'm fairly certain the main reason you are reading this review is to find out what the screen is like because there have been numerous complaints coming out of Asia about the screen on the T600C, the Japanese version of this same handheld. I won't keep you waiting any more and cover it first.

I can confirm that the T615C's screen is a bit weak at displaying strong colors, reds especially. Its absolute brightest red is brownish. This is especially clear in Clié Paint, where you can draw big boxes or circles in the primary colors, letting you see that green also isn't terribly vibrant.

I loaded several pictures with lots of red in them into PG Pocket and looked hard at them. While I'm not thrilled, in my opinion this isn't a fatal flaw. I wish the colors were stronger but my vacation photos still look pretty good.

For those of you who want to use it as an ebook reader, its whites are very white. Black-on-white contrast is excellent. Like all hi-res Sony models, the screen is incredibly crisp and sharp. The 320 by 320 screen actually looks crisper than my monitor does.

It's also quite bright. It certainly does not suffer from the T415's dim screen. Even with its backlight dimmed down as much as it will go, it is still brighter than some of its competition. However, you'll still need to have the backlight on much of the time you are indoors, unless you are in a quite brightly-lit room.

Outdoors, the backlight becomes unnecessary. The T615C looks great in direct sunlight and much of the time I'm outdoors I can't tell if the backlight is on or off.

Casing
The T615C looks much like the T415, except that it's a bit thicker, at 4.65 by 2.83 by .50 inches by Sony's measurements. It looks pretty much like a T415 that ate too much over the holiday season.

I don't much like to comment on the appearance of handhelds because, as they say, beauty is in the eye of the beholder. I have the silver model, not the blue, and I'll just say I think it looks very professional and a bit more "slick" than the N610C, which it is replacing.

Buttons and Such
I have to say that the T615C's buttons are its weakest part. They are long and thin and are uncomfortable to push. The rocker switch that serves as the Up/Down buttons is too small to be easy to use. They look cool, though.

The Jog Dial also looks cool and is much, much easier to use. I think I'll spare you this time my usual spiel on how great I think jog wheels are but I promise you nothing has changed. The T615C's Jog Dial makes maneuvering through long pages easier and just navigating around in the Launcher is better. Sony included a Back button, which I think is indispensable with any jog wheel.

Innards
The T615C runs Palm OS 4.1 on a 33 MHz Dragonball chip. I'll try to get you some numbers on processor speed for the full review.

Memory and Storage
As I said earlier, the T615C has 16 MB of RAM. Since its introduction on the Visor Pro a few months ago, this is quickly becoming the standard. All I can say is, having all the room is great.

Of course, it also has a Memory Stick slot. No Memory Stick came with it but these are readily available in sizes from 8 MB to 128 MB. The official Sony price for the 128 MB one is $150 but you can find them cheaper than that.

This slot can also be used with Sony's Memory Stick digital camera, the PEGA-MSC1. Sony has promised to loan me one of these soon so I should be able to get out a review.

Speaker
The T615C has an enhanced speaker when compared to other Palm OS models. It can't play your favorite Creed song but it's good enough to make your alarms sound a lot better.

You can convert WAV and MIDI sounds on your PC and move them onto your T615C and use them as alarms. This means you can have your wife or girlfriend say, "It's time to wake up" rather than just have your handheld beep at you.

Just to make it clear, the T615C has no built-in ability to play MP3s. You can buy a attachment from Sony for about $130 that will let you, though.

Universal Remote
The T615C also has an enhanced infrared port that lets it control a TV, VCR and a couple of other kinds of home electronics from up to 15 feet away.

To program it, you just pick the name of the company who made the device you are trying to control and the type of device. You don't train it with your current remote. I've heard a couple of people say that this doesn't make it a "universal" remote. All I can say is I have a regular universal remote and it works pretty much the same way.

I've also heard a rumor that this only works with Sony electronics, which isn't at all true. It has profiles for 18 different companies, like GE, Mitsubishi, Panasonic, and Sharp.

Battery
The internal battery is a lithium-ion polymer rechargeable. I'm afraid that, at this point, I can't tell you anything useful about battery life. I just haven't had it long enough. This will be covered much better in the real review. I can say the battery life can't be too bad; I haven't had to recharge it yet.

Peripherals
The T615C uses the same really super-slim stylus as the T415. I have to admit, I haven't warmed to this thing yet. It is just so small. Sometimes I feel like I'm writing with a coffee stirrer.

The flip cover is the best one I can remember from any Sony model. It's leather and connects to the back and runs over the top. It looks good and works fine. I'm sure some of you will want to buy a hardcase for more protection but the T615C's flip cover will be fine for many.

The cradle is the same one from the T415, which isn't necessarily a good thing. I don't much like Sony's new cradle. It has a lot more wiring than their previous one and isn't as convenient. I guess I miss that previous Sony electric cables could double as a travel charger, which the one from the T series can't.

Conclusions
Like I said, I've only had the T615C for just over a day, which is too early to draw any real conclusions. Its definitely evolutionary rather than revolutionary, as it doesn't have any features that don't already appear in another Sony model. So far I think it's a good handheld, and a decent replacement for the N610C.
Article Comments
(121 comments)
The following comments are owned by whoever posted them. PalmInfocenter is not responsible for them in any way.
Please Login or register here to add your comments.

Comments Closed
This article is no longer accepting new comments.

Only the first 50 comments are displayed within the article.
Click here for the full story discussion page...