TinySheet 4.12 Mini-review
By Ed Hardy
Overview
TinySheet 4.12 is a new version of iambic's spreadsheet application. It supports the 480 by 320 color screens on Sony's just released NR series. The company has also added VFS memory card support. Workbooks can be saved to removable memory cards in the TinySheet Manager.
I'm not going to do a review of all the features. I did a full review of TinySheet 4 when it was introduced last year and, if you aren't familiar with the app, I suggest you take a look at it.
Memory Card Support
The change that is going to be most significant to the majority of TinySheet users is the ability to save and open spreadsheets directly from memory cards.
Since VFS went into wide use about this time last year with the introduction of the Palm m500 series and the Sony N series, its inclusion in applications has been sadly slow. The fact that a great app like TinySheet is just now supporting it is a good indication of how slow its been. This is unfortunate because the ability to open and save files from a memory card is an extremely useful feature.
However, at least in this case, that deficiency has been corrected. TinySheet now lets users decide where to store their files, either in RAM or on a card.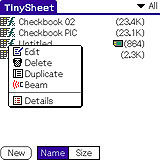 Moving a spreadsheet to your card isn't as simple as I would like. You need to go into the Details on the file and check the "Saved on memory card" option. You move it back by unchecking this.
This isn't a really big hassle but I think a major function like this should be a one- or two-tap operation. I shouldn't have to go digging around for it in dialog boxes. Still, it helps that you can access the Options screen from both the file list and when the spreadsheet is open.
Nit-picking aside, once a spreadsheet is saved on a memory card, working with it isn't any different from files in RAM. It appears on the same list with the other spreadsheets. You can only tell the difference because there is an icon of a memory card next to the file name.
You can open, edit, and save files on the card just like you could if they were in RAM. Really, I can't see any difference, besides the fact that your spreadsheets no longer need to take up valuable space in RAM.
In the desktop app, you can set a file to be converted to TinySheet format and be saved directly to a memory card.
I'm not going into a long list of all the handhelds that have VFS support. Hopefully it will be enough to say that if your handheld has an SD/MMC or Memory Stick slot, it supports VFS.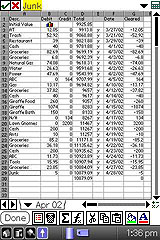 Hi-Res+ Support
With its NR series, Sony introduced a new screen size, 320 by 480, which has gotten a surprisingly large amount of support from third-party developers, especially considering the NR series has only been available in the U.S. for about a week. iambic has been at the forefront of this, adding hi-res+ support to TinySheet several weeks ago.
TinySheet 4.12 has the ability to display spreadsheets with either the Graffiti area hidden or showing. It can also display them at hi-res and "normal" size, that is 160 pixels across.
This gives you a four options, which is plenty for me. I tend to enter data at normal resolution with the Graffiti area showing, then switch to hi-res+ to get a complete look at the whole spreadsheet. This is because at high resolution the boxes are really small and you have to be very careful to tap inside the box you want, not the one next to it.
Here comes another nit-pick. I wish it were easier to switch between hi-res and normal resolution. You have to dig around in the Preferences screen in order to switch between the two. I guess iambic thinks you'll always want to be normal-res or high-res, but that's not the way I use the app.
I have to tell you, hi-res+ support is great. I no longer feel like I'm looking at my spreadsheets through a keyhole. I can see an entire month's checkbook entries at once. All that extra screen real estate is wonderful.
I ought to mention TinyChart does not take advantage of the hi-res+. It does show charts and graphs in hi-res but it can't take up the full screen. When you have TinySheet open with the Graffiti area hidden and you open a chart, you can still see the bottom portion of the spreadsheet below the chart.
Conclusion
The inclusion of memory card support in TinySheet is good for everyone. In addition, everyone who owns a NR70 or NR70V should at least consider this app.
TinySheet costs $30. If you are already a registered user of TinySheet, this upgrade is free.
Article Comments
(22 comments)
The following comments are owned by whoever posted them. PalmInfocenter is not responsible for them in any way.
Please Login or register here to add your comments.

Comments Closed
This article is no longer accepting new comments.