Cambio Sneak Peek
By Davy Fields
9/28/2002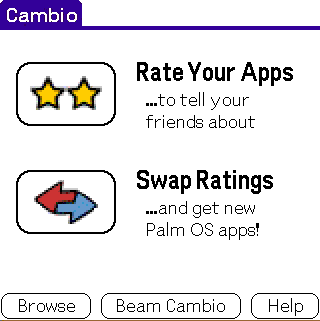 At a recent Silicon Valley PUG Meeting, PalmSource employees displayed an application they have been developing. An extremely early version was shown at the PalmSource conference in February, but it's come a long way since then. In its most basic form, Cambio (meaning swap in Spanish) is a program designed to facilitate exchanging and sharing programs on your handheld. It makes for easy browsing of the applications on another persons Palm, and allows you to view a star rating, description, and other myriads of information. It allows you to pick and choose what you'd like to get, and easily transfer them over infrared or Bluetooth. The current version (still in early beta) already has some exciting functionality, but the future promise of this application is quite amazing. On a side note, Cambio is apparently the name of another data-transfer application, so think of Cambio as PalmSource's code name for now.
Cambio currently has two main modes: One where you rate your applications on a 1-3 star scale, and one where you exchange ratings and programs with other people. Rating is ridiculously easy; you can rate any application in your main memory with one to three stars to represent quality. The description section can either be written in by the developer, or the palm user can write one, or both. The current version doesn't let you beam hacks, .pdbs, or anything off the VFS card, although the developers said that they would consider adding this in the future. Anyway, when you hit the "Swap Ratings" button, it reaches out to connect with another Cambio user (both users must use Cambio, it's freeware, and easily beamed from inside the program. The current version is only 66k) and download a list of programs they have, descriptions of them, as well as the other Cambio user's ratings. You can then peruse through their list seeing descriptions, file sizes, and of course, the ratings, and pick which applications they'd like to receive, and then finally beam over the applications. The cool things is that it allows you to set up a chain of things you're downloading (multiple files in one beam), instead of a tedious one-at-a-time beaming, and it even allows you to beam both ways (not at once, but in the same queued system). After that happens, you've got your applications, and you're on your way. It saves the last 14 people you've exchanged ratings with, along with what programs are on their palms. If you later discover an application you'd like to have, you can set it up to automatically download it next time you come in contact with them. Overall, it has a lot of promise, and greatly speeds up the process of sharing your favorite apps.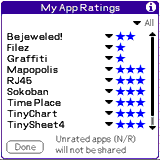 Of course, there are some things that need to be mentioned. The inability to transfer .pdb's is a curse, but also a blessing. This mainly means that none of your personal data will transfer with your applications. The applications also automatically don't transfer any registration information, so it's almost like downloading a fresh copy of any application over, which is great for anyone concerned with security. On the flip side, it doesn't allow you to easily transfer databases that might be associated with a program (like a spell checker with Wordsmith), at least not for the time being. This program does not in any way allow anyone else to access your data, or download anything other than an application in unregistered form.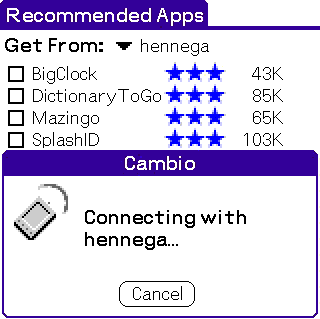 So, for now the program shows a lot of promise. What got my attention was when they talked about the future. In a few years, when Bluetooth is expected to be integrated with most palms, the developers said that you could seamlessly explore the app lists of multiple people around you, transferring programs without ever having to sit there slowly beaming and pointing at each other. It's almost like a small, localized Peer to Peer network of Palm OS programs. Imagine if at a large meeting someone could merely pick up a Palm and transfer a new sales program to everyone in the room in a matter of mere seconds!
So, for now, Cambio isn't commercially available, but this is a sneak peek at what could very well be a killer app. This is the kind of program that demonstrates what Bluetooth was designed for, and shows a bright future for the creative developers at PalmSource.
Article Comments
(42 comments)
The following comments are owned by whoever posted them. PalmInfocenter is not responsible for them in any way.
Please Login or register here to add your comments.

Comments Closed
This article is no longer accepting new comments.