Review: Astrawareís Nisqually
By: Pepper
October 10, 2002
Overview
Nisqually is another puzzle game from Astraware. The goal of the game is to remove lines of three or more so you clear the board of enough pieces to move onward.
Game Play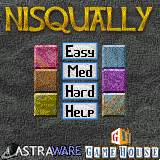 The object of the game is to remove a preset number of blocks from the level. To do this, you get the blocks into vertical and horizontal lines of three or more. A block is moved simply by tapping it, and switching it with a neighboring block. You continue removing blocks until there are no more possible groups. If you removed at least the set number of blocks you continue onto the next level, if not the game is over. The quicker you complete a level, the greater the bonus will be.
There are three difficulty settings, but, honestly, I fail to see any challenge in this game, even on the most difficult setting. Of course, there are only 18 levels to beat, so it wont keep you entertained particularly long, either. If you survive long enough blockers will start appearing. They canít be moved, and they canít disappear, they just get in the way to make the game marginally more difficult. But, unfortunately, the overall lack of obstacles makes this game too simple.
Graphics
Visually, this game isnít remarkable. The graphics are clear and easy to view without confusion. In color, the gray blocks in higher levels would seem rather close, but overall it was tolerable. The monochrome implementation was based on simple shapes, and worked out much better than some of the other Astraware games did.
Conclusion
Really, this game isnít much of a thriller. Game play is too dull and doesnít require much skill. It might serve as a nice tool to help you fall asleep at night, but it isnít very useful for entertainment.
Company:
Astraware
Price:
$14.95
Design:
(3)
Cost/Benefit:
(1.5)
Coolness:
(2)
Overall:
(1.5)
Maximum rating is five (5) infopalms.

PROS:

not too hard for a beginner
nice monochrome support

CONS:
Article Comments
(10 comments)
The following comments are owned by whoever posted them. PalmInfocenter is not responsible for them in any way.
Please Login or register here to add your comments.

Comments Closed
This article is no longer accepting new comments.