Review: Championship Card Games
By: Pepper
October 11, 2002
Overview
The Championship Card Games, by Dream Quest software, includes Euchre, Hearts, and Spades. From a total newbie to a card game master, the games offer a challenge for anyone.
Game Play
Game play is pretty simple. If you already know how to play card games, you can play just as you would with a real deck of cards. If you don't already know how to play, there is a simple tutorial included with each program to teach you the basics. Once you know the game, it's time to get playing.
From the options menu you can customize your opponents, the skill level, and tweak the rules of the game. The skill levels range from a simple beginners game to a challenging masters level. Regardless of the level you choose, you can always use a hint or two to give yourself a little aid in winning the game.
Graphics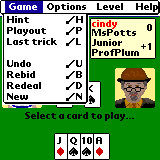 Being a card game, there really isn't too much you can say about the graphical content of it. The use of color is nice, and the graphics look detailed although not exceptionally smooth. The faces of the characters you play look cute and cartoon-ish, although are a little indiscernible on such a small screen. In short, the game won't assault your eyes, but it doesn't exactly promise any eye candy either.
Statistics
The games offer you statistics at almost every chance they get. During each hand you can find the round's stats in the upper right hand side of the screen. Between every deal a statistics box will also come up, detailing the events of the round. And, of course, there is also a place to look at your win/loss statistics. Whether you're a good player or a poor one, you will have no problem what so ever finding out how well you play. Unfortunately, the program stores all of the data for this in memo pad. It is a tad annoying and clutters up the memo pad list.
Speed
Ultimately, the games are good, but the one place I have a problem is the speed. It seems you spend more time waiting on the games then you do playing them. Starting up the application is a long process while you wait for it to load each individual aspect of the game, and you have to wait again when you want to exit. Playing the game is also a slow ordeal; you spend more time waiting for the Palm to make its move than you would for real people. There are, however, options available to delay the pauses during and between tricks. Unfortunately the effect is minimal and practically unnoticeable. In fact , the options are another major bone of discontent I have. Although I love customizing my choices, I don't like being forced to wait several minutes to do so. After hitting OK, it takes up to a full minute to return to the game.
Miscellaneous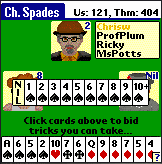 Aside from the basics, there are almost always a few other points to make. First off, the size of the programs isn't something to be too thrilled about. Combined, the games take nearly a meg of RAM. Although certainly not a huge program, it would have been great if the company could have kept the size to a minimum.
Secondly, the programs do include options for wireless gameplay . A very nice idea, but not exactly useful if you can't find anyone to play against . . . and if no one wants to wait on a slow Palm OS machine.
Also, this is one of the first applications I have seen which has included an on-board installation program. Although kind of neat in its uniqueness, I find it bothersome to have an installation utility on my palm for a few PRC files.
Conclusion
Although the games are fun and challenging to play, the speed is just too aggravating. If the games' speeds were boosted a bit it would be excellent, but until then the games are practically unplayable.
Company:
Dream Quest Software
Price:
$39.95
Design:
(3)
Cost/Benefit:
(3)
Coolness:
(2)
Overall:
(2.5)
Maximum rating is five (5) infopalms.

PROS:

Challenging game play with customizable skill sets
Cute characters to add personality
Comprehensive instructions
Plentiful stats

CONS:

Game runs WAY to slow
Size is large
Article Comments
(28 comments)
The following comments are owned by whoever posted them. PalmInfocenter is not responsible for them in any way.
Please Login or register here to add your comments.

Comments Closed
This article is no longer accepting new comments.