Review: Compex iRE201 IR Access Point
By: Davy Fields (davy@davyfields.com)
November 2, 2002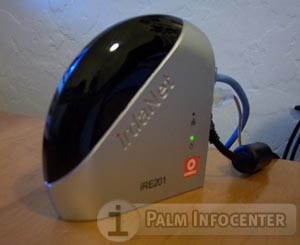 The Compex iRE201 is a box that allows you to plug an internet connection through Ethernet to any Palm with and infrared port. With minimal set-up, cheap price, and a small, sleek design, the IR201 is a great product for an individual or business who'd want to use the internet on their palm.
To begin, before everyone dismisses the idea, some explanation of context is needed. The point of this device is not to stick on your desk and point your Palm towards it, although it does work great for it. The real idea behind this device is the same as the ďWideRayĒ boxes you see in high-tech locales. The IRE201 allows you to easily use the internet functions of your palm, check your e-mail, surf the web, and even synchronize your Palmís clock, all on the fly. With a minimum amount of preference settings, any palm can be configured to use the iRE201. It brings the internet quickly, easily and cheaply to any palm with an infrared port. Setup of the device is easy, and overall, itís a killer device.
Installation: The Compex iRE201 can be purchased for $89.95, from their website (www.cpx.com), or in your local electronics store. Setup is quite easy, pop it out of the box, choose between Ethernet or Modem connection, and plug it all together. It comes with a stand to use it vertically, or you can just set it flat. I prefer it flat, but more on that later. Anyway, setup from the computer is accomplished from a web-based interface, which is quite easy to configure. After that, the device is ready to go. From the palm perspective, all you have to do is go into the network preferences, and create a new profile, name it whatever you want, and choose IR to a PC/Handheld connection. Thatís it! Youíre on the Internet!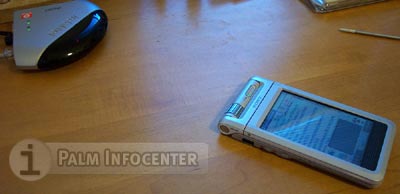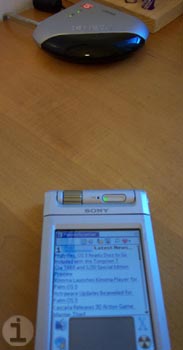 Usage: Well, the main part of the device is obviously for the connection itself. The device has a nice range, but in the vertical position, there's not much in terms of side angles, the infrared port is parallel to the unit, and doesn't pick up anything on the sides. The port does a conical coverage area, so in order to be able to set the palm down and surf, I use it in the sideways position. This isnít so much of an issue, but it is a little confusing at first. If you use it in the upright position, it can become tiring to hold it pointing at the base station, but itís not much of a problem. Compex generously packs in a second Infrared Receiver for twice the coverage area, so itís not much of a miff. You can plug in the secondary receiver, and Velcro it to a side wall.
In terms of the applications it can use, it's basically anything Internet related. Obviously, you can't place a call through it, but you can run plenty of web browsers, Instant Messaging Programs, myriad utilities, and, of course, check your e-mail. Honestly, the e-mail part is the most attractive part of the package. If youíve got one of these set up, with a pop e-mail account, you can write messages, stroll up, synchronize and be on your way, no wires, no wait. E-mail access is a breeze, and is definitely one of the best features.
In terms of speed, it was more than decent, but it wasn't breathtaking. I suppose this is more of a Palm limitation than the device, but itís a little disappointing to pump a cable modem into the box and then have the Palm be limited to a significantly slower rate. From my old experience with Palm Wireless Modems, it was faster than that, so more likely than not, this will be fine for most people. After all, the main point of this device is the sync-and-go; you're not going to be browsing any online art galleries standing in front of the iRE201.
But, in conclusion, standing around is not the point of this device. It delivers easy, cheap, and fast wireless access to any Palm. If you've ever held your Palm Pilot and wished it could do the internet without all the expensive modems, or bulky cables, this is truly the device for you.

PROS

CONS

Inexpensive
Small, sleek design
Works with basically all Palm Devices
Works with Ethernet and Dial-up
Easy Setup

Not breathtakingly fast
In upright position, using it can be tiresome
†
RATING: 9.1 / 10

Design:
looks nice, sleek design
Features:
Provides Internet to any Palm Device
Infrared:
Works great within coverage zone
Setup:
Web-based setup that can be accessed from any computer.
Value:
Easy Internet for any Palm for only $89
Product website: www.cpx.com
Article Comments
(46 comments)
The following comments are owned by whoever posted them. PalmInfocenter is not responsible for them in any way.
Please Login or register here to add your comments.

Comments Closed
This article is no longer accepting new comments.