Hands-on Review: Clie TG50
By: Dan Royea PalmEvolution.com
April 28, 2003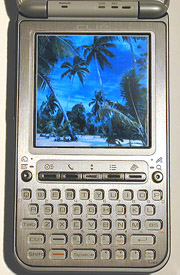 Introduction: Sony has given their popular mid-range T-series a complete make-over with a new physical design and an updated feature-set from their high-end NX/NZ line; including a powerful ARM processor running Palm OS5, Bluetooth wireless connectivity, and an integrated mini-keyboard.
Like Handspring's Treo line and Palm's Tungsten W, the TG50 is the first new Clie to forsake a dedicated Graffiti area for a thumb-board, and many people are rather surprised (and somewhat dismayed) that there isn't a companion model offered with the 320x480 "virtual Graffiti" screen from the flip-twist-and-fold NX/NZ-series.
Design: Its all new -- but is it better? Although it shares the thin form of its predecessor, it is slightly longer than the T-series, though not as long as the NX. Part of this extra length is due to the new integrated flip cover, which has a smooth mechanical spring closure. Though the brushed metal finish is attractive, it isn't nearly as functional as the tinted transparent cover used on the recent SJ-33. The finish uses an attractive combination of materials: from the brushed steel inserts of the cover and keyboard bezel to the 2-tone silver body housing (the rear is metal, and the front plastic) to white plastic and chrome accents.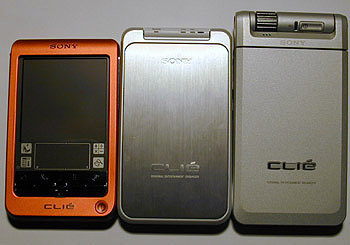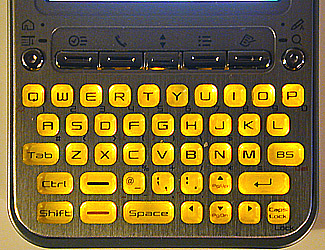 The biggest design change of course, is the integrated keyboard. Instead of the super-low-profile round keys of the NX-series, the TG50 has the larger squared keys of the NZ90 with the added bonus that they are backlit! In general, the keys have the same tight spacing as the NX, but the feel is improved, and fairly high speed and accuracy can be attained with a little practice. There are a few annoyances however. As before, the "shift", "Fn" and "Alt" keys are not sticky, meaning that for many characters two keys have to be held down simultaneously (which often requires some real finger gymnastics!). The layout for alternate characters such as !@#$ is different from standard qwerty keyboard locations again, but have been reorganized into more common groupings so the learning curve isn't as steep. The main drawback however is that it is difficult to see the alternate characters printed on the metal surround, as the blue and orange printing is low contrast; and are not backlit. Further, many of the international characters aren't shown at all, and if there's a help shortcut that shows these, it sure isn't obvious where to find it (hint: experiment with the red Alt key and various letters).
The four standard app launch and up/down buttons are located between the keyboard and screen, and unfortunately, are small, not separated and the teeny up/down toggle is quite awkward. Its really unfortunate that the Sony design team didn't extend the cool keyboard button style to these common keys. On either side of this row of buttons are two extra round buttons, that replace the "silkscreen" buttons (that disappeared with the rest of the silkscreen area): on the left - a short push for the Launcher and a longer push for the Menu; on the right - a short push for a pop-up Graffiti window and a longer push for "Find".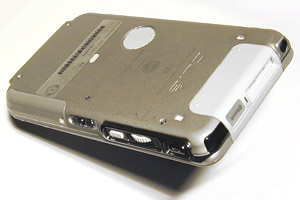 The side-mounted controls include the excellent Power/Hold switch (first seen on the SJ33); the standard Clie Jog Dial & Back button; and a dedicated Rec button (which could be relocated elsewhere, allowing the primary controls to be moved to a more comfortable ergonomic position). Hopefully, Sony will also include the handy 5-way JogDial used on the Sony-Ericsson P800 smartphone on their Clies one day.
The center hinge area can be seen with the lid either open or closed, and includes small LED indicators for Bluetooth, Charging, and Recording as well as the mic port. The top includes the headphone jack; Memory Stick slot (with another small activity LED), the infrared window and a large LED window proudly displaying the Bluetooth logo. (While our review of Palm's Tungsten T criticized the lack of a Bluetooth indicator, this implementation is overkill in low-light situations with it's strong blue pulsing.)
The stylus is Sony's standard thin, but high-quality stick; and is extracted from it's silo from the bottom like the NX-series. This means that it is inaccessible when the handheld is docked in it's cradle, and unfortunately (unlike the NX), there's no stylus holder built into the cradle.
Overall, despite a number of questionable minor design decisions, the TG50 is an attractive and functional device.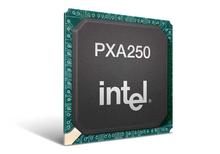 Hardware: The TG50 incorporates the 200MHz XScale PXA250 processor and for memory, 16MB RAM (11MB available) and 16MB ROM as per the NX-series. Removable memory options include support for the faster and higher-capacity Memory Stick Pro media, which is an important step forward for this class of device. (Notably, only the entry-level Clie SJ-series use the older DragonBall processors now.)
The screen is Sony's high-resolution 320x320 pixel, 16-bit color transflective display, and is of the usual high quality expected from Sony, but with one minor flaw: the front-light uses 6 point-source white LEDs at the bottom of the screen, resulting in slightly uneven illumination in this area. Other than that, the brightness, contrast and color balance of the screen are as good as we have seen on recent Clie models. Oddly, the lack of a Graffiti area makes the display area seem smaller than the T665C even though it only measures a couple of millimeters smaller in width.
The speaker is located on the back of the device behind a mesh screen and is reasonably loud for a dime-sized speaker, but because of its location can be muffled when the handheld is placed on a surface. For listening to stereo sound, there is a headphone jack, however no headphones are supplied, nor is there an remote audio controller as featured on the old N-series, or the current NX/NZ-series. Sound quality, particularly with a good pair of headphones, is very good. Monaural audio recording uses a built-in mic, although a prototype Memory Stick stereo microphone that has been displayed in the past, might be a welcome accessory by some.
The TG50 is powered by a non-removable LiIon Poly battery, and requires a 3-4 hour charge time when fully depleted. Battery life is more than adequate for a full day under a typical heavy users scenario, though keeping Bluetooth constantly activated can result in accelerated power consumption. Claimed battery life from the manuals is:
- typical PDA use: 11 days (30 min/day, no backlight); 6 days (30 min/day with backlight);
- mp3 use: 4.5 hours (no display (hold)); 3 hours (with backlight); and movie playing 2 hour (with backlight)

There are multiple connectivity options, including the standard Clie 20-pin Interface Connector port (for the T-series style cradle; plus accessories such as the GameController; and Compact Keyboard), standard infrared plus Consumer Remote Ir, as well as Bluetooth (v1.1; Class 2 10m range) A forthcoming MSIO WiFi card from a third party expands the connectivity options even further.
SPECIFICATIONS

Size & Weight:
5.0" x 2.8" x 0.63"; 6.2 oz.
Processor:
XScale PXA-250 (200MHz); Palm OS 5.0
Memory:
16MB RAM (11MB avail.); 16MB flash ROM
Expansion:
Memory Stick (MS PRO-compatible)
Screen:
320x320 pixel; 65k-color; transflective back-lit
Audio:
stereo headset jack; rear speaker; mono mic
Power:
LiIon Poly (3.7V, 900 mAh)
Connectivity:
USB with cradle, MSIO, IrDA, Remote Commander LED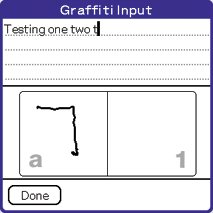 Software: Because the TG50 runs Palm OS5 on the XScale processor; it is FAST; and OS5 compatibility has not only become the norm, but there are an increasing variety of apps that are OS5-only to take advantage of the increased processing power. One unique feature of the TG50 is that an on-screen Virtual Graffiti area can be called up via the new "right round" button for text entry. Like the old on-screen keyboard, this only allows four lines of text to be displayed in addition to the entry area, but is a welcome option for short notes, particularly as the stylus strokes are displayed as they are entered.
The ROM is preloaded with the core set of Palm OS PIM (Address, Date Book, Memo Pad, ToDo List, Calculator) and System applications (Card Info, HotSync, Preferences (with HiRes and Jog extensions), Security) but the TG50 includes a host of additional programs.

Clie Launcher is an "enhanced" application launcher, which attempts to provide easier JogDial navigation. While it has some intriguing features, and certainly has a more eye-catching design, it is less-efficient than the standard Launcher (still included) which supports the display of "small" versions of Icon and List view.
Supplemental productivity applications include Voice Recorder: - offering two modes: SP (22kHz) and LP (8MHz) which can capture up to 520 minutes on 128MB Memory Stick (!); Clie Memo - for quick pen-notes and sketches; and World Alarm Clock. There are also some very useful utilities: Clie Files - McFile-based file manager (replacing MSGate); MS Import - which shows a connected Clie as drag-n-drop external storage in Windows Explorer; Sound Utility - for polyphonic alarms; and the basic but effective MS Backup. Internet applications which are supported by the wireless functionality include Net Front web browser and Clie Mail email client.
As befitting a Personal *Entertainment* Organizer there is a pretty comprehensive suite of multimedia applications too.
For images: Photo Editor - for adding notes to images; Clie Album - sort and present your images; PhotoStand - displays photos with an optional clock overlay; Movie Player - for playback of MPEG1 and MPEG 4 movies; and Macromedia's Flash 5 - for interactive Flash file.; Cross-application integration through Clie Viewer, which lists and allows opening of images, movies, notes, voice recordings; and provides multiple options for opening in a related application, including sending the file as a Clie Mail attachment.
The latest version of Audio Player is provided for listening to either MP3 or ATRAC3 music files, and features playlist sorting.
Another exclusive is Clie RMC, which allows remote control of various home entertainment components (but oddly not the DVD playback on PlayStation 2...?!).
Instead of DataViz' Documents To Go for MS Office view and edits; the TG50 ships with the new Picsel Viewer, which permits viewing of a wide variety of document and image types (though the user interface is, well, "non-standard"). Full versions of Bejeweled; PowerOne Personal calculator; and StreetFinder Express mapping software are included as well as a broad range of trial-version applications (see the Clie website for the full list).
Also on the CD are on-line manuals: Handbook (pdf) and Applications Manual (html); Palm Desktop 4.1 for Windows, as well as Intellisync Lite for syncing with MS Outlook and Lotus Organizer. Mac users can purchase Missing Sync.
Other bundled applications are included for transferring multimedia files between the Clie and the PC: Image Converter and PictureGear Studio for image and movie syncronizing; Sonic Stage for ATRAC3 music file creation and transfer; Sound Converter for alarm creation; MS Export for transferring files; and GigaPocket plugin, which allows export of DVR software recordings from suitably-equipped Vaio PCs.

Bluetooth: Bluetooth wireless connectivity is becoming increasingly useful as the Personal Area Network (PAN) concept takes hold and becomes more prevalent. Aside from the Palm OS' built-in features for sending data to other handhelds ("bleeming" ?) and HotSyncing with Bt-enabled PCs, the TG50 includes the SMS application for use with a Bt-enabled cell phone; as well as the game Reversi. Setting up the TG50 to pair with a Sony-Ericsson T68i was reasonably straight-forward and the thumb-board works great with the SMS application (not to mention that the two devices are a very nice match!). Pairing the TG50 with a PC for HotSyncing also posed no problems, and while the syncing times are somewhat slower than via the cradle, the range proved to be very good in our test setup.
At the present time, the only other PalmOS handhelds with integrated Bluetooth are the Clie NZ90 and the Palm Tungsten T, although most Palm Inc. handhelds are compatible with Palm's Bluetooth SDIO accessory. (While Sony's MSB1 Bluetooth MSIO card is available in Europe and Japan, it is still not offered in North America for some inexplicable reason.)
One feature of the TG50 that illustrates the potential for Bluetooth, is the inclusion of BIP, or the Basic Imaging Profile. Essentially what this does, is enable remote camera control and capture with suitably-equipped devices (such as Sony's DCR-TRV80 camcorder and DSC-FX77 digital camera (available only in Europe & Japan at present)). While we didn't have the opportunity to test it out, functions like "Clip Motion" - where the camera detects a moving subject and transmits the image to the TG50's Remote Camera app - make us look to the future with eager anticipation! :-)
Market Positioning: With this hardware feature-set and pricing at US$399, the inevitable comparison is with Palm's Tungsten T. While there will be different preferences over the overall design, the deciding factor for many people will come down to whether they prefer a mini-keyboard or stylus for input of data. While there may be many (particularly first-time PDA buyers?) who opt for the keyboard, a "tablet"-style variation on the TG50 (like a simplified NX60 - let's call it the "TT-series") would likely be a huge hit!
One final thought: despite the fact that the Clie handhelds are referred to as Personal Entertainment Organizers and are loaded with multimedia applications, this device could be very compelling for the enterprise market.

Summary: The Clie TG50 is a powerful OS5 handheld with Bluetooth, a sharp screen, great audio capabilities and good mini-keyboard. While it should be a hit for mini-keyboard fans, we can't help but be disappointed that a hi-res+ sister model wasn't released as well.
PROS

CONS

fast processor
backlit mini-keyboard
integrated Bluetooth
good audio features
MS Pro-compatible

uneven display illumination
awkward alternate characters
awful up/down button
non-transparent flip cover
no headphones included
RATING: 6.4 / 10

Design:
attractive and functional, but a few quirks
Features:
powerful; Bluetooth; audio rec/play
Screen:
sharp; marred by uneven illumination
Battery:
LiIon Poly; "average" capacity
Value:
nice hardware and apps bundle
Product Homepage: Clie TG50
© 2003 Dan Royea, PalmInfoCenter
Article Comments
(89 comments)
The following comments are owned by whoever posted them. PalmInfocenter is not responsible for them in any way.
Please Login or register here to add your comments.

Comments Closed
This article is no longer accepting new comments.

Only the first 50 comments are displayed within the article.
Click here for the full story discussion page...