Garmin Begins Shipping the iQue 3600
Thursday, July 24, 2003 3:59:46 PM
Garmin International announced today that the iQue 3600 began shipping this week to leading electronics retailers and traditional Garmin dealers within the United States. The iQue 3600 is the first PDA with integrated Global Positioning System (GPS) technology. It runs Palm OS 5 and carries a suggested retail price of $589.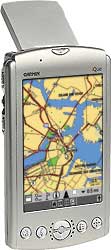 The iQue 3600 is the first PDA to feature a built-in GPS antenna and integrated turn-by-turn navigation software. Using an ARM processor powered by Palm OS 5, the iQue 3600 combines Garminís proprietary Que technology with the unitís Address Book and Date Book. The integrated result is that users can look up an address or appointment on their iQue 3600 and navigate to it using the mapping function, following turn-by-turn, voice-guided directions to their destination. Their progress is presented digitally on the deviceís color display.
The iQue 3600 is powered by Motorola's 200 MHz DragonBall MXL microprocessor, it has 32MB of RAM, an SD memory expansion slot, and a 320x480-pixel transflective TFT display with more than 60,000 color combinations. The handheld measures 5.0" x 2.8" x 0.8" (72 x 128 x 20.3 mm) and weighs 5.2 oz.
The iQue 3600 marks the first in a series of planned future products that will combine Garminís expertise in location technologies with open mobile computing platforms, such as the Palm OS. Early enthusiasm for the iQue 3600 provides an indication of additional opportunity in the PDA market that the company wishes to capture. Based on this market potential, Garmin is shifting its R&D focus from CDMA and follow-on GSM handsets to devote more engineering resources to the development of products based on open mobile computing platforms, including those enabled with Bluetooth technology and other wireless capabilities. Garmin will monitor long-term opportunities in the wireless market and will continue product enhancements in support of international consumer sales of the NavTalk GSM as well as opportunities in vertical applications as they arise.
The iQue 3600 earned the prestigious "Best of Innovations" Award in the Mobile Office category of the Innovations 2003 Design & Engineering Showcase competition at this yearís International Consumer Electronics Show. The iQue 3600 won acclaim for its form, function, value and marketability.
Find the best price on a Garmin iQue 3600
Thanks to Reggie from ClieSource and Gauarv for the tip
Article Comments
(26 comments)
The following comments are owned by whoever posted them. PalmInfocenter is not responsible for them in any way.
Please Login or register here to add your comments.

Comments Closed
This article is no longer accepting new comments.