Quickies: Missing Sync, Playmaker, Movie Guide and More
Thursday, August 28, 2003 12:00:13 PM
UX50 owners will be able to use thier models with the Mac OS X, A classic Apple game, Playmaker Football, has been released for the palm os, wyncs software has been updated, powerOne has a new version of their graphing calculator, LandWare and DataViz have announced new programs and more in todays update.
Missing Sync for UX Series
MarkSpace has announced an update to their Macintosh conduit product. "The missingsync" is now compatible with Sony's UX-50/40 Clie. The Missing Sync provides iTunes and iPhoto import/export and Memory Stick access from the Mac desktop.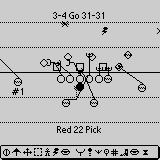 Playmaker Football
Playmaker Football, the legendary American football simulation originally designed for the Apple MacIntosh, is now available for all Palm OS-based platforms, providing an application with unsurpassed richness and refinement for PDA gamers, football fans, and coaches alike.
Playmaker features include: 160 X 160 resolution graphics; Zoom In & Zoom Out perspectives for optimal viewing pleasure. Comes with 4 Teams, each with 30 player rosters (22 starters & 8 alternates). Compatible with PALM 3.5 or higher. Memory Requirement - Approximately 650 kb as shipped; will vary with playbook size.
Wyncs Update
Wyncs Web Sync Solutions has announced several recent enhancements to their popular ?Web-to-Outlook or PDA? utility including the updated Software Developers Kit (SDK). The updates to Wyncs SDK allow for faster, more efficient annexation between the Company Website and those visiting.
powerOne Graph version 4
Infinity Softworks has announced powerOne? Graph version 4. powerOne Graph makes it possible to carry a single device for all needs without losing the graphing calculator on which these individuals rely. powerOne Graph v4 adds data plotting, sequence graphing, RPN input, inferential statistics like z and t-tests, and advanced regression analysis to a software package already comparable to popular Texas Instrument, Hewlett-Packard and Casio graphing-scientific calculators. The software sells for $59.99, education discounts and volume pricing are available.
Merriam-Webster's Dictionary and Thesaurus
Mobile Digital Media announced that it has shipped multi-platform handheld versions of Merriam-Webster?s CollegiateŽ Dictionary, Eleventh Edition & Franklin Thesaurus and BritannicaŽ Concise Encyclopedia in time for the busy back-to-school season. Both titles, published on plug-and-play MultiMediaCards (MMC) that require no downloading or synching, are compatible with the full range of Palm Powered? devices with expansion media slots. Both products are available at retailers nationwide and on the web for a suggested retail price of $39.95 each.
Leonard Maltin Movie and Video Guide
LandWare has announced that principal shooting is now complete and the Leonard Maltin Movie and Video Guide for Palm OS is currently undergoing final editing for its premier in October. The company has made a sneak preview of this exciting new handheld title available here.
Dose-A-Day Calendars
DataViz has announced a new line of Dose-A-Day daily calendars for Palm OS handhelds. Dose-A-Day Dilbert and Dose-A-Day Golf by Gary McCord will be available in mid September, just in time for the holiday season. DataViz will also be announcing other Dose-A-Day titles this fall. The product launch introduces a new concept in daily calendars. Unlike traditional paper tear-off calendars, Dose-A-Day provides 365 days of entertainment from the date of installation on the handheld. Customers are guaranteed a full year of Dose-A-Day whether they purchase in January, June or December. Both new titles will be available from DataViz on September 15, 2003 for the suggested retail price of $19.95.
Seidio Garmin Bundle
Seidio has introduced a the PDA Super Plus Bundle for Garmin IQUE 3600. It provides a secure way to mount your PDA, Power and charger for your PDA, and improves the sound output for GPS software. This versatile bundle provides your mount cradle with three different mounting ?solutions, the 8" Windshield Suction Pedestal, the Locking Vent Clip Pedestal, ?and the Multi-Angle Dash/Console Pedestal for $64.95.
Article Comments
(6 comments)
The following comments are owned by whoever posted them. PalmInfocenter is not responsible for them in any way.
Please Login or register here to add your comments.

Comments Closed
This article is no longer accepting new comments.