Quickies: VZW Ad, webOS AT&T Hints, Canadian Pixi
Tuesday, January 19, 2010 1:20:50 PM
Things in the Palm world are understandably quiet now in the aftermath of the CES excitement, but there is definitely some noteworthy news items circulating around the Internets.
First off, a HowardForums post from member Scaredy reveals that that both the original CDMA Palm Pixi as well as the refreshed CDMA Pixi Plus has been approved by Industry Canada. Industry Canada is the Canadian government's regulatory department roughly analogous to the FCC in the United States overseeing areas such as wireless spectrum management and certification. These new webOS devices join the existing CDMA 8GB Pre and the HSPA 8GB Pre in carrying Canadian certification. To date, no Pre Plus or GSM Pixi versions have been approved for release in Canada, so Verizon may enjoy a period of exclusivity on the CDMA Pre Plus.
Secondly, an anonymous tipster sent Precentral a screen-grab of some server logs showing what appears to be a GSM Palm Pre and Pixi devices running WebOS 1.3.8 on the AT&T Network. Assuming this report is accurate, these devices could launch at some undetermined point after Verizon's 1.3.5-equipped webOS units slated for next week. The site is also speculating that the final retail versions of the AT&T Palm devices will have February's highly-anticipated 1.4 update pre-installed.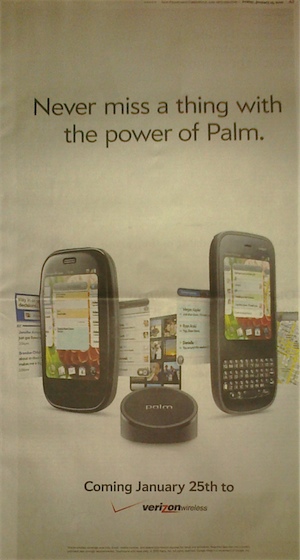 Next, we have an image of a full-page color ad from last Friday's Wall Street Journal promoting the upcoming January 25th webOS launch on Verizon. This is an encouraging sign for VZW users that their network of choice is feeling a bit more compelled to give a stronger marketing push to Palm's newest devices after several years of underwhelming support of the final Palm OS smartphones and missing the boat entirely on Palm's final two Windows Mobile Treos.
Article Comments
(15 comments)
The following comments are owned by whoever posted them. PalmInfocenter is not responsible for them in any way.
Please Login or register here to add your comments.